Woman accuses Wyoming secretary of state of assault: He said "I 'was too attractive to resist'"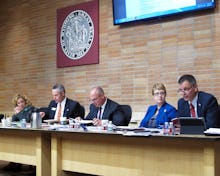 Wyoming Secretary of State Ed Murray is denying allegations that he sexually assaulted an intern at the law office he worked at 35 years ago.
"This baseless claim about an encounter from 35 years ago is unequivocally false," Murray said in a statement Thursday. "There is no basis to this falsehood whatsoever and it is deeply hurtful to me and to my family, as well as to everyone I serve."
The denial came days after Tatiana Maxwell, a former intern at Dray, Madison and Thompson in Cheyenne, Wyoming, detailed her disturbing experience with the possible Republican gubernatorial candidate in a Facebook post.
"Ed wrestled me down to the carpet in front of the receptionist desk, opened his pants, lifted up my blouse and ejaculated on my stomach," Maxwell wrote Monday. "I was disgusted and horrified."
According to Maxwell, Murray was a young law school graduate five years her senior when he invited her to "hang out."
She had just graduated high school, she wrote.
After sharing pizza and beer, she said, Murray made unwanted sexual advances on her. She told him she was a virgin and struggled to keep him from unbuttoning his pants, at which point she said he brought her to the ground and ejaculated on her.
She wrote that he apologized to her afterward, telling her that she was "just too attractive to resist."
Murray has served as Wyoming's secretary of state since 2015.
He has indicated that he is considering running for governor of the state in 2018.
Murray is the latest politician to be accused of sexual misconduct as industries from media to politics to entertainment reckon with legacies of abuse by powerful men.
Maxwell wrote Monday that she felt more empowered to reveal her story about Murray because of the deluge of #MeToo stories that have emerged in recent months.
"As this issue of sexual harassment and assault has grown, my daughters have asked about my experience. As I described it, they asked what I did about it and the answer is, nothing," Maxwell wrote. "But it is a different time and they have encouraged me to speak up. I am gratified to know that they have a different understanding of things and know what to do if something like this would happen to one of them."
Murray on Thursday said that the allegation was a "reminder of how important it is to be an advocate for the courageous women and men who have spoken out against a very serious problem in our country," but suggested Maxwell was attempting to use the #MeToo movement to make a false claim against him.
But the former intern wrote that Murray — whom she says married one of her former classmates — apologized to her during a reunion years later and once again "couched it in terms that I was irresistible and he couldn't control himself." She also said that she has heard "other rumors regarding Eddie."
"If there are other women who have stories, I hope this helps them feel less alone," she wrote. "Enough is enough."