Republicans releasing revised tax plan, which is hurtling towards passage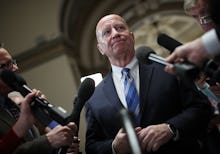 Congressional Republicans are ready to unveil a revised version of a tax reform bill they say can pass both the House and Senate, putting the party one step closer to giving President Donald Trump his first legislative win in office.
Republicans plan to vote on the bill next week, giving Democratic lawmakers — who were not included in the bill drafting process — just days to read and digest the latest changes to the legislation.
House and Senate Republicans, who had already passed separate versions of tax reform bills, worked together to combine them into one piece of legislation that can pass both chambers.
The combined version lowers the highest income-tax bracket for the wealthiest taxpayers from 39.6% down to 37%, reduces the corporate tax rate from 35% to 21% and lets taxpayers deduct up to $10,000 in state and local taxes, among other things, according to the New York Times. The full bill text is expected to be released after 5:30 p.m. Friday.
Republicans hope to pass the revised bill before Congress leaves Washington for the Christmas recess.
Initially, it looked like the tax plan could be in trouble, after Sen. Marco Rubio (R-Fla.) said he would vote against the bill because he thought it wasn't helpful enough to the working poor.
But Republicans changed the bill to make the child tax credit more generous to low-income families, earning back Rubio's support.
Sen. Bob Corker (R-Tenn.), who voted against the initial version of the tax plan, also announced his support for the revised legislation Friday, virtually guaranteeing the bill will pass.
Corker voted against the first bill, saying he was against the fact that the plan raised the deficit. The new bill also increases the deficit, yet Corker decided he would back it anyway.
What remains unclear is whether Sen. John McCain (R-Ariz.) will be healthy enough to cast his vote on the proposal. McCain is currently hospitalized due to "normal side effects of his ongoing cancer therapy," according to CNN.
Vice President Mike Pence delayed a planned trip to the Middle East by three days so he could be in Washington in case he's needed as the tie-breaking vote.