While You Weren't Looking: 5 stories from the Trump administration that aren't about taxes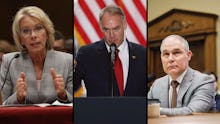 The news this week was dominated by the historic election of Doug Jones in Alabama and the ongoing machinations to try to pass the Republican tax bill before the senator is sworn in.
Meanwhile, the Trump administration has been hard at work making consequential policy decisions that affect the U.S. and its relationship with the rest of the world.
Here's what you might have missed:
Trump blamed for Christmas celebration cancellation in Nazareth, Israel
Christmas is officially canceled in Jesus' hometown, and it's all thanks to President Donald Trump.
Nazareth Mayor Ali Salam canceled the city's annual Christmas celebration, citing Trump's controversial decision to move the U.S. embassy in Israel from Tel Aviv to Jerusalem.
Salam said Trump's move had taken the "joy" out of the annual event, held in the Israeli city where many Christians believe Jesus once lived.
On the campaign trail, Trump promised to end the so-called "war on Christmas" once and for all. But since taking office, he has reversed his position on a number of America's never-ending wars — so why should the war on Christmas be any different?
Scott Pruitt hires political hitmen to do EPA press work
Environmental Protection Agency chief Scott Pruitt has hired a firm with expertise in digging up dirt on Republicans' opponents to work on the agency's press relations.
Mother Jones reported that a $120,000 no-bid contract has been awarded to Definers Corp., a GOP-affiliated opposition research firm, to track its press activity.
Opposition research firms typically work to dig up damning info on politicians to discredit them with salacious information from their past.
A spokesperson for the firm said the contract is for "media monitoring [and] news clip compilation." Just what — or perhaps who — the firm will monitor remains unknown.
Ryan Zinke punishes National Park Service leader for tweeting about climate change
In November, the Twitter account for Joshua Tree National Park tweeted a banal fact about climate change.
"An overwhelming consensus — over 97% — of climate scientists agree that human activity is the driving force behind today's rate of global temperature increase," the account tweeted.
Now, the head of that California national park has been officially reprimanded for the tweet. Zinke summoned Joshua Tree superintendent David Smith to his office to scold him for breaking department policy on communications about climate change. No disciplinary actions were taken, however.
Meanwhile, the state of California is currently beset by raging wildfires that have taken human life and caused massive disruptions in the state. It's December.
California and Massachusetts sue Betsy DeVos over relief for defrauded students
Education Secretary Betsy DeVos is being sued by the states of California and Massachusetts over her decision not to process the debt relief claims of thousands of defrauded students.
Corinthian Colleges, a now-shuttered for-profit college, is accused of defrauding around 80,000 students across the country, pushing them to enroll in the institution that was peddling substandard degrees.
DeVos was appointed to the position of education secretary by Trump, a man who settled a multi-million-dollar fraud lawsuit against his own for-profit learning institution.
Top U.S. diplomat resigns in protest with angry letter to Rex Tillerson
It was discovered Sunday that a top diplomat for the United States' mission in Somalia quit her job by sending a fiercely critical letter to Secretary of State Rex Tillerson.
In the letter, first obtained by Foreign Policy, state department officer Elizabeth Shackelford hammered Tillerson for allowing the U.S. foreign diplomatic corps to atrophy and called on him to "stem the bleeding by showing leadership and a commitment to our people, our mission and our mandate as the foreign policy arm of the United States."
"If you are unable to do so effectively within this administration, I would humbly recommend you follow me out the door," the letter said.
Rumors have swirled for the past few weeks about Tillerson's potential resignation amid alleged frustrations with Trump. If those frustrations continue, maybe he'll Shackelford up on her offer.