J Dilla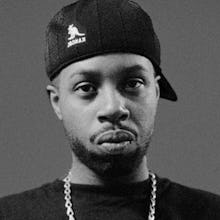 This article is a part of the Black Monuments Project, which imagines a world that celebrates Black heroes in 54 U.S. states and territories.
J Dilla — the late producer, rapper and musician — helped shape the sound of early 2000s hip-hop. With soulful and serene productions, he influenced many of today's celebrated producers — Kanye West, 9th Wonder and Flying Lotus, to name a few — who see him as a saintly figure who inspired them to produce music truest to their souls.
Dilla, also known as Jay Dee, is considered to be one of the greatest hip-hop producers of all time. He got his start making music at home. "It was like it ran through his veins," his mother, Maureen Yancey, said, according to the biography on his website, written by Ronnie Reese.
James DeWitt Yancey was born on Feb. 7, 1974, in Detroit. His biography detailed Dilla's musical family: His mother loved opera and classical; his father, Beverly Yancey, was a vocalist and recording artist; his grandfather William James Yancey was a pianist; and his uncle, Clemmer Yancey, was a writer and arranger.
Dilla's first love was jazz. He learned to play the piano and cello, and later expanded his range to the drums, flute and guitar. Dilla continued to develop his music skills by practicing at home and singing in the Vernon Chapel AME youth choir, according to the bio.
Dilla, who excelled at physics, enrolled at the Davis Aerospace Technical High School. But he resisted the atmosphere and curriculum of the technical school, preferring to focus on his music, the bio said.
He began DJing parties and working with a producer named Joseph "Amp" Fiddler in the 1980s. Fiddler, who was also from Detroit, had toured with George Clinton and the P-Funk All-Stars. He owned a home studio called Camp Amp, within walking distance of Dilla's home, where he would help younger, promising musicians develop their talents. Dilla spent long nights there engineering sessions and learning to produce with drum machines and digital programming, according to the bio. He would also dig through Fiddler's record collection.
Dilla transferred to Detroit Pershing High School for his senior year. There he met the future members of Slum Village, rappers R.L. Altman, also known as T3, and Titus Glover, who went by the rap moniker Baatin.
But the growth of the group would be put on pause when Fiddler introduced Dilla to Q-Tip of A Tribe Called Quest. Under Q-Tip's guidance, Dilla began producing with Ali Shaheed Muhammad as the production team Ummah. The trio worked with Janet Jackson, Busta Rhymes and De La Soul. The collective also worked on A Tribe Called Quest's Beats, Rhymes and Life and The Love Movement albums, as well as Q-Tip's debut solo album, Amplified, Complex reported.
In this time, Dilla returned to Detroit to focus on recording with Slum Village. In 1996, the group released Fantastic, Vol. 1. The album leaked and grew in popularity on the underground circuit, according to the bio. The project later reached the ears of singer D'Angelo and drummer Ahmir "Questlove" Thompson of The Roots. Dilla was soon invited into the Soulquarians music collective and produced for his peers, Complex reported. This resulted in lending his production skills on The Roots' Things Fall Apart, D'Angelo's Voodoo and Erykah Badu's Mama's Gun. Dilla also worked on Common's Like Water for Chocolate, most notably the Grammy-nominated "The Light."
In 2001, Dilla emerged as a solo artist with his debut album, Welcome 2 Detroit. According to the biography, his mother said Dilla experienced profiling by the police in his hometown, and it frustrated him so much that she encouraged him to make a song about it. This birthed one of his most popular solo tracks, "Fuck the Police," that same year.
As Dilla reached new heights of success, his health began to decline. In 2003, he was diagnosed with a rare blood condition called thrombotic thrombocytopenic purpura. Dilla was also later diagnosed with lupus. Even though he was sick, he continued to produce: In 2004, Common encouraged him to move to Los Angeles, and Dilla collaborated on some of his final work with Common and producer Madlib, according to the bio. He even toured in Europe. His third and last solo album, Donuts, was released on Feb. 7, 2006. He died three days later, at 32.
Dilla is regarded as a hip-hop master who was gone way too soon. He wanted the music he created to be released after his death, according to Eothen Alapatt, the creative steward of Dilla's estate, the New York Times reported. Several studio albums and compilations — the most recent album being The Diary in 2016 — have been released posthumously. Dilla's legacy continues, and every year since 2007, his fans have gathered in New York City to celebrate his life at the Donuts Are Forever party, which raises money for scholarships for young musicians.