Roy Moore suggests voter fraud affected Alabama race, says the "battle is not over"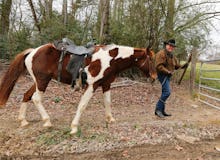 Accused child molester Roy Moore still won't admit he lost to Democrat Doug Jones in Alabama's special election Tuesday, telling supporters that the "battle is not over."
He also sought donations to what he described as an "election integrity fund," suggesting that "numerous reported cases of voter fraud" may have been a factor in the race.
"I also wanted to let you know that this battle is NOT OVER!" Moore wrote in an email to supporters Friday.
Moore — who was accused of molesting a 14-year-old girl when he was in his 30s and pursuing romantic relationships with other teenagers — was defeated by Jones Tuesday, despite the enthusiastic endorsement from President Donald Trump.
But even Trump admitted Tuesday that his candidate lost, tweeting that Jones won a "hard fought victory."
"The people of Alabama are great, and the Republicans will have another shot at this seat in a very short period of time," Trump wrote in an uncharacteristically civil tweet. "It never ends!"
Trump continued to call for Moore to admit defeat Friday, telling reporters "I think he should [concede]."
"He tried. I want to support, always, I want to support the person running," Trump said. "We need the seat. We would like to have the seat."
But Moore has continued to suggest that the race was still too "close" and that voter fraud needs to be investigated — echoing Trump's own gripes about supposed illegal voting in the 2016 election that kept him from winning the popular vote over Hillary Clinton.
Trump has not just made unproven claims of voter fraud — he has set up a panel to investigate it, which has been criticized as a tool of voter suppression.
Moore may have been referring to a report that circulated Dec. 12 that claimed a "van full of illegals" were found to be casting ballots at multiple polling locatoins in Alabama — a report that was proven false.
He has also suggested a recount is possible, though Alabama Secretary of State John Merrill — who openly supported Moore — said outright in the aftermath of the election that it was "highly unlikely" the results would change.
"The people of Alabama have spoken tonight," Merrill said. "They've made their voice heard loud and clear. The most important thing to remember now is the process needs to be followed to ensure that the integrity, the safety and security of the election is preserved."
The results of the election are set to be certified between Dec. 26 and Jan. 3.