This week in Trump-Russia news: Robert Mueller is under attack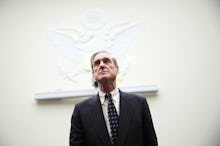 President Donald Trump and his buddies — who have been gearing up for a fight against special counsel Robert Mueller for weeks — are now in full-on attack mode.
Latching onto the now-infamous text messages sent by a former member of Mueller's team, the president and his allies have begun to explicitly call for the Russia probe to be shut down or for the special counsel's team to be investigated in what a former federal prosecutor told Mic resembled the tactics used by "mob lawyers."
Here's what you need to know about the attempts to undermine Mueller as his probe looms over the White House:
Trump, Republicans take aim at "biased" special counsel
Republicans have weaponized the anti-Trump texts FBI agent Peter Strzok sent to a colleague in their fight against Mueller.
Strzok and Lisa Page — a colleague with whom he was having an affair — repeatedly bashed Trump in text messages that were released to members of Congress and the media this week.
Trump and his allies on Capitol Hill have pointed to them as evidence that the investigation is a politically motivated witch hunt, as the president has repeatedly claimed.
Rep. Jim Jordan (R-Ohio) has been one of the most aggressive critics of the FBI in recent weeks, using a pair of House Judiciary Committee hearings as an opportunity to berate FBI Director Christopher Wray and, this week, deputy Attorney General Rod Rosenstein.
"I think the public trust in this whole thing is gone," Jordan told Rosenstein on Wednesday.
But Republicans haven't been telling the whole story about those politically charged text messages.
They fail to mention that Strzok and Page also slam figures on the left in their conversations. More importantly, according to former federal prosecutor Patrick Cotter, they fail to provide any evidence that the agent, who was booted from Mueller's team over the summer, took any action based on his political beliefs.
"I see the 'attacks' on the Mueller investigation as political, not legal," Cotter said in an email. "In that sense, I see them as illegitimate."
Trump rumored to be considering firing Mueller
Nevertheless, Trump may be considering giving Mueller the ax — and sooner than one might think.
According to Rep. Jackie Speier (D-Calif.), the "rumor on the Hill" is that the president plans to fire the special counsel before Christmas, when lawmakers are away on break.
"That is Saturday massacre 2.0," Speier told KQED. "Without a doubt there would be an impeachment effort."
Schiff concerned about fate of Congressional probe
The FBI investigation into Russian election interference isn't the only probe that may be coming under threat.
Rep. Adam Schiff (D-Calif.) — the top Democrat on the House Intelligence Committee — said Friday that he is concerned Republicans will shut down his panel's probe by the end of the year.
According to the California Democrat, no interviews have been scheduled past 2017, leading him to worry that the panel's probe won't survive into the new year.
He suggested that killing the House Intelligence Committee's investigation could leave Mueller's probe more vulnerable to attacks from the administration.
The House Intelligence Committee is conducting one of three congressional Russia probes.
The Senate Intelligence Committee — which is conducting one of the other investigations — grilled Donald Trump Jr., the president's son, in a nine hour closed-door hearing.
Sen. Mark Warner (D-Va.), the ranking Democrat on the panel, is calling for Trump Jr. to appear in a public hearing.
Putin praises Trump, slams "espionage mania"
Russian President Vladimir Putin also got in on the action this week, defending his American counterpart against what he described as "espionage mania" on the part of his critics, investigators and the media.
"This is all dreamed up by people in opposition to Trump to make sure that everyone thinks that what he's doing and working at is illegitimate," Putin said at a news conference this week. "It's just delirium. It's madness."
Putin — who spoke by phone with Trump Thursday — also praised the president for his "serious achievements" during his time in office so far.
Russia probe still casts shadow over White House
Despite the attacks on Mueller, his probe continues to loom large over the White House.
Trump's lawyers are expected to meet with the special counsel's team as early as next week, though it is unclear what the two parties will discuss.
The president's lawyers, who have suggested that Mueller's team should be investigated, will likely hope the special counsel will assure them that the probe is nearing its conclusion and that it clears the president of any wrongdoing.
But Mueller has given no indication that he is anywhere near finishing his investigation, and has no obligation to provide Trump's team with any information about the probe.
News of the upcoming meeting comes weeks after former national security adviser Michael Flynn became the fourth Trump official known to have been brought down by the investigation — and amid increasing speculation about the fate of the president's son-in-law, Jared Kushner, who is hiring a crisis management public relations team, according to a report Friday.
"The only reason Jared Kushner would hire a crisis public relations firm is because ... A CRISIS IS ABOUT TO HAPPEN TO HIM," Rep. Ted Lieu (D-Calif.) tweeted Friday.