Nancy Pelosi: Trump putting US on dangerous path to "word and thought control"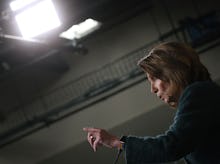 House Minority Leader Nancy Pelosi slammed President Donald Trump after his administration barred the Centers for Disease Control and Prevention from using certain words and phrases, tweeting Saturday that banning words like "diversity" and "transgender" is "un-American."
"DANGER!" Pelosi wrote. "Trump Admin is going further down a dangerous and un-American path of word and thought control."
The Washington Post reported Friday that CDC policy analysts were informed this week that the agency will not be able to use the words "fetus," "vulnerable," "entitlement," "diversity," "transgender," "evidence-based" and "science-based."
The administration did not say why the words were being banned, but in at least one case offered alternative language.
"Instead of 'science-based' or 'evidence-based,' the suggested phrase is 'CDC bases its recommendations on science in consideration with community standards and wishes,'" according to the Post.
Analysts were reportedly "incredulous" upon being briefed on the banned words.
Critics of the administration, including Rep. Kamala Harris (D-Calif.), slammed the move and accused the White House of making an "authoritarian" attempt to politicize the CDC and "silence" the work of scientists.
"It's downright ridiculous," Harris tweeted.
Matt Lloyd, a spokesperson for the Department of Health and Human Services, defended the administration's move to the Post, telling the paper that the CDC "will continue to use the best scientific evidence available to improve the health of all Americans."