Senator-elect Doug Jones has a message for his vanquished opponent Roy Moore: "It's time to move on"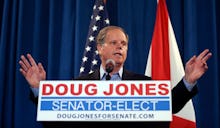 With a narrow victory against his beleaguered opponent, Alabama Democrat Doug Jones made history Tuesday by pulling off a stunning win for his party in the deep-red state of Alabama.
But it's a victory that his Republican opponent for U.S. Senate has yet to acknowledge: As of Sunday, Roy Moore, the former chief justice of the Alabama Supreme Court and an alleged sexual predator, has yet to concede to the Democratic senator-elect.
And as Moore pushes forward with plans to contest the vote, Jones had a simple message for his opponent Sunday: "It's time to move on."
"Alabama has spoken," Jones said in an interview with host Jake Tapper on CNN's State of the Union. "It was a close election — there's no question about that — but elections can be close sometimes. But now it's time to heal. Now it's time to heal and move on to the next thing."
Jones isn't holding his breath for a gracious concession from his opponent though: The former federal prosecutor vowed he would be "ready to go" regardless of whether Moore accepts defeat.
"We're ready. We're starting to put our team together, to take over and get in there as soon as possible," Jones said. "And I would just say, let's go: The election should be certified in a week or so, and I'll be ready to go regardless of whether he concedes or not."
Jones beat out Moore by just 1.5% of the vote, a slim margin that Moore is now using as a defense to not concede the high-stakes election. On election night, Moore told his supporters: "When the vote is this close ... it's not over."
The Republican candidate also sent out an email to his supporters Saturday alleging instances of voter fraud — a claim that has been denied by Alabama Secretary of State John Merrill — and urged supporters to donate to his campaign's Election Integrity Fund, WHNT News reported.
Even President Donald Trump, who endorsed Moore during the election despite allegations that he sexually assaulted and preyed on underage women, has said the Republican candidate should concede.
"I think he should," Trump said, according to Politico. "He tried. I want to support, always, I want to support the person running. We need the seat, we'd like to have the seat. As far as Roy Moore, yeah, it's — I would certainly say he should."
As Jones now prepares to ascend to the Senate despite Moore's protestations, the candidate acknowledged Sunday the role that African-American voters played in his election, telling Tapper that he doesn't think "you should take anyone's votes for granted." The senator-elect also said that he would staff his Senate offices to reflect the state's diversity, following a call by Shaun King to appoint at least two African-Americans to top positions in Jones' office.
"I'm going to commit to having a Senate office ... that reflects the diversity of Alabama," Jones said. "I can promise everyone that we're going to represent the entire state of Alabama."
Jones, who won his narrow victory in a historically conservative state, explained that he may not always vote on party, identifying fidelity to party as a problem with modern American politics.
"One of the problems in American politics right now, in my opinion, is that everybody thinks that because you're a member of one party or another you're going to vote a certain way," Jones explained. "And that should not be the case, should not ever be the case. Now, I'm going to talk to people on both sides of the aisle and figure out what I think is the best interest of my state and in the country."
But the GOP shouldn't expect an unlikely ally in Jones: the future senator holds progressive views on a number of topics, including taking a pro-abortion-rights stance and believing in climate change.
Jones' victory is a huge win for Democrats, leaving the Republicans with a slim majority of just 51 seats in the U.S. Senate to Democrats' 49 seats.