NBC paid settlement to former staffer who accused Chris Matthews of sexual harassment in 1999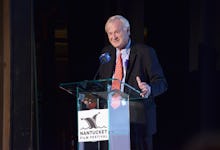 As the ongoing wave of sexual misconduct allegations continues to take down powerful men in the worlds of media and other industries, another well-known media figure has been revealed to have faced accusations of sexual harassment: MSNBC anchor Chris Matthews.
According to a Daily Caller report that was later confirmed by MSNBC, Matthews was accused of sexually harassing a former associate producer in 1999, when the anchor's Hardball program appeared on the channel CNBC. Following her allegations against Matthews, the woman was then paid a separation-related payment by NBC.
The woman alleged that Matthews had made inappropriate comments and jokes about her in front of others, the Daily Caller reported.
"In 1999 this matter was thoroughly reviewed and dealt with. At that time Matthews received a formal reprimand," an MSNBC spokesperson said in reponse, according to NBC News.
According to the spokesperson, the network determined during its investigation "that the comments were inappropriate and in made in poor taste but were never meant as propositions," NBC reported.
The network's separation payment to the woman, the Daily Caller noted, is reported to have been $40,000, though a spokesman later contacted the publication and claimed "the company instead paid significantly less as part of a severance package."
Matthews is now the latest high-profile media figure to face sexual harassment allegations, which have taken down fellow anchors Charlie Rose and Matthews' former NBC colleague Matt Lauer. The network has also severed ties with journalist Mark Halperin after he was accused of sexual harassment by multiple women.
According to NBC News, the network announced Dec. 8 that it would conduct a "culture assessment" of its news division, as well as mandate harassment-prevention training for its employees.