Mic Wakeup: Your holiday break is so close. Your morning news is even closer.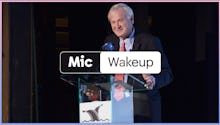 Your weekend may be in the rear-view mirror, but your holiday break is so, so close. Pour a little egg nog in your coffee this morning (trust us!) and curl up with the Mic Wakeup. Here's everything for Dec. 18, 2017.
Doug Jones to Roy Moore: Concede already
If you're Democratic U.S. Senator-elect Doug Jones, you're probably feeling good about yourself: You just pulled off an upset victory in the deep red state of Alabama with the eyes of the nation watching, and you're giving your party the numbers they need to better thwart the agenda of the unified Republican government under President Donald Trump. There's just one minor problem: Your opponent won't concede.
And if you're Jones' vanquished opponent, Roy Moore, you might want to listen up: Jones has a message for you.
Dem polls are looking good
A little more Jones for your Monday: That victory we were just talking about? It likely reflects a growing desire in the nation to have Democrats control Congress, a new poll shows. One important note: The last time Democrats had numbers like these was in September 2008, right before former President Barack Obama won the election against Republican Sen. John McCain of Arizona and Democrats cemented control of both the House and the Senate.
Claim against Chris Matthews revealed
NBC confirmed Sunday that it paid out a settlement to a former associate producer on news show Hardball who accused MSNBC anchor Chris Matthews of sexually harassing her. With the claim against him surfaced, Matthews becomes the latest prominent man in media to be accused of some form of sexual misconduct since the #MeToo movement began. The full story is here.