The complicated relationship between tipping and sexual harassment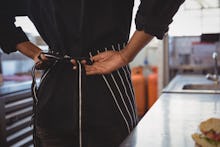 The restaurant industry has been embroiled in the #MeToo movement, with allegations against John Besh's Besh Restaurant Group in New Orleans and pastry chef Johnny Iuzzini, chef Mario Batali and restaurateur Ken Friedman in New York City.
But sexual harassment and unwanted sexual attention in restaurants isn't confined to the kitchens nor management. In interviews with Mic, current and former restaurant workers detailed repeated incidents of unwanted sexual attention from customers. These incidents highlight the complicated dynamics of minimum wage, tipping and pressure to flirt with customers.
Restaurant workers reported some of the highest rates of sexual harassment in the workplace from 1995 to 2016.
"It comes from inside [the restaurant], outside and anything with a penis," Liz, who worked in a restaurant in Lower Manhattan in New York for more than eight years, said in a phone interview. She asked to be identified only by her first name as as she's still connected to the food industry.
Liz recalled an incident around eight years ago when she asked a regular customer if he would like dessert, and he responded, "I think I'd like to go down on you, is that an option here?" The customer later apologized, claiming he was on painkillers and was intoxicated, and Liz continued to wait on him.
"I just pretended it never happened," she said, but the experience "filled me with ick." A different customer posted about her breasts on Yelp, she recalled. "Go on Wednesday night to see Jennifer Love Hewitt and her big boobs behind the bar."
According to data from the U.S. Equal Employment Opportunity Commission analyzed by BuzzFeed, restaurant workers reported some of the highest rates of sexual harassment in the workplace from 1995 to 2016. According to a 2014 report from the Restaurant Opportunities Center United, or ROC, and Forward Together, "nearly 80% of women and 55% of men experienced some form of sexual harassment from customers." While all of the individuals Mic spoke with are women (many of whose names have been obscured to protect their privacy and future career opportunities), the issues of harassment and unwanted sexual attention are not limited to one gender.
The problem with minimum wage
Rates of harassment rise in states where workers are paid a sub-minimum wage, often referred to as a tipped minimum wage, and are dependent upon tips from customers to earn a full wage. "If you work at IHOP, your customer is paying your bills, not your employer," Saru Jayaraman, ROC's co-founder and co-director, said in a phone interview.
In several states like New Jersey, Texas and Virginia, the rate paid by management is set by the federal Fair Labor Standards Act and is as low as $2.13 an hour. Women in these states "are twice as likely to experience sexual harassment as women in states that pay the same minimum wage to all workers," the ROC report states.
Recently, the U.S. Department of Labor proposed a rule that would allow for tips in restaurants where the minimum wage is paid to be pooled and redistributed between the front and back of the house. Advocates say this would allow for a more equitable division of income between those who work as servers and those who work in the kitchens.
The rule, however, puts the division of those tips in the hands of management and doesn't prevent owners from keeping the tips. Only seven states — Alaska, California, Minnesota, Montana, Nevada, Oregon and Washington — require that restaurant workers be paid the minimum wage before tips, but Jayaraman said the new rule may tempt owners in the other 43 states to move to this model. Opponents of the bill, like the ROC, say it will exacerbate an already bad situation.
When tipping and harassment go hand in hand
The idea of "the customer is always right," and a need to provide hospitality above all else, came up repeatedly in interviews. Pamela Wiznitzer, the creative director of Manhattan bar Seamstress, worked at a sports bar early in her career. She recalls male customers telling her, "Oh, hey, I need to see you really work for the money. Give me a little something to see," she said by text message.
"'It's OK, I'm tipping her well.' That phrase is burned into my memory."
Tipping puts a degree of power in the customers' hands. Marie vividly remembers an evening five years ago at a restaurant she worked at on the Lower East Side in Manhattan. Toward the end of the meal, she walked to the table she was waiting on. "I was standing to his left," she said of the host of the party. "His left hand was on my waist and his right hand was cupping my butt. I still remember the feeling of his hand on my butt cheek." A female diner at the table, Marie recalled, laughed nervously and said, "Ah, dude." He responded, "'It's OK, I'm tipping her well.' That phrase is burned into my memory."
In a phone interview, Danielle recalled a recent evening at a steakhouse in north California, where she asked if a table wanted dessert. When a male diner responded, "Oh, does that come with a side of [you]?" she said she felt uncomfortable, but had to weigh laughing it off or passing off the table. It was a potentially large tip on the $400 or $500 tab, in a restaurant where tips weren't pooled. She kept the table, but said when sexual harassment occurred when she worked at a restaurant where the average bill was $15 a person, she would pass off the table.
Pooling tips also makes speaking up against harassment more complex, Liz said. "In a pooled house … it wasn't just your paycheck you were affecting by being sassy, it was everybody's."
The pressure to flirt
While working at a dinner theater in Philadelphia, Carly, who has been in the food and beverage industry for 17 years, recalls taking drink orders from a table when a man said he'd like to order "breast milk. Yours." She said in a phone interview that there is an uncomfortable power dynamic when guests know they are paying your wages and that tip is at their discretion.
Pressure to flirt with customers and to dress provocatively from management is also common, particularly in states where tipping is a crucial part of a server's salary. "Tipped women workers in $2.13 states reported that they were three times more likely to be told by management to alter their appearance and to wear 'sexier'" clothing," according to the ROC report.
"Tipped women workers in $2.13 states reported that they were three times more likely to be told by management to alter their appearance and to wear 'sexier'" clothing
Systemic pressure can also turn to self-pressure and pressure from co-workers. Carly, who identifies as a "larger chested woman," said she recalls an instance when a co-worker said, "Oh, if you unbutton one more button, we'll make more tips."
Another time, Carly said, "I was working an event. We were given shirts and we ended up cutting [mine] into a V-neck. That was my choice… I feel like I had the agency to make that choice in the moment, but looking back, I question that."
When sexual harassment is part of the job
At a job at a sports bar early in her career, Ashtin Berry, who is now the beverage director for Tokyo Record Bar in Manhattan, recalls being grabbed so many times that she and a colleague would add shots to a customer's tab. "If they're going to grab my ass, I'm going to charge them for it," she said in a phone interview. "Looking back, that's a fucked up way" to deal with the situation, she said. "At the age of 21, as a woman, you're pretty clear that sexual harassment is just part of your life — especially if you're in the hospitality industry."
One in two American adults has worked in the restaurant industry in their lifetime, said Jayaraman. She worries about instances like these occurring early in a woman's career and the lasting impact on women. According to a 2012 study by ROC, women make up 71% of the server workforce. "They're told the more you … elicit harassment, the more money you'll make and the more worthy of a worker you are," Jayaraman said.
The role of management
Some of the current and former restaurant workers Mic spoke with said management plays a larger role in the acceptance of inappropriate behavior.
"I think it has less to do with tips and more with who is your management team — will they have your back or not," Berry, the Tokyo Record Bar beverage director, said. With one exception, the only time she has seen managers respond when a female employee reported behavior that made them uncomfortable is when the manager was a woman, she said.
"Men are much more comfortable with not addressing it and telling you it's part of your job, whether they say it directly or indirectly," Berry said. As a manager, she has worked to advocate for her employees. She recalled one time at a New Orleans hotel bar when a server was propositioned by a hotel guest. "I closed him out and said, 'You are welcome to go to your room,'" Berry said. "He said I can't take a joke."
Workers advocates say the Department of Labor's proposed tip-pooling rule would embolden owners. "Until now," Jayaraman said, waiters "had to put up with harassment from customers, but the tips were theirs. Now management will have the power to keep the tips." Notably, the new rule wouldn't supersede laws in states that prohibit management from sharing in tips — though those laws have been ignored, leading to lawsuits in the restaurant industry in the past.
Dina is based in Florida and has worked in the food and beverage industry on and off for 20 years, primarily as a bartender and cocktail waiter. "I've rarely worked in a restaurant where the management would be on the side of the workers," she said in a phone interview. The new rules would give even more power to managers, who can be another source of harassment. At one job at what she describes as a longstanding, historic restaurant, the owner texted her a photo of his genitals. After asking her out three times, "I said no," she said. The owner responded, "Three strikes, you're out." Dina was taken off the schedule for a day and didn't return to work. She chose not to take action because of the nature of the small community she lives in. "But I did lose my job," she said. "It was brutal."
The comment period, where workers can speak out against the proposed Department of Labor rule, will close in early February, unless advocates like the National Women's Law Center can push for a longer one. Regardless of the decision, tipping in some form is unlikely to disappear soon and will continue to lead to complex situations for servers.
The potential to make more with tips is a motivation for many in the restaurant industry, and it's hard to imagine the job without this psychological incentive. "I made so much money I paid off $30,000 of my student loans in probably six years," Liz said. "I don't have student loans because of this restaurant, but also you give something up in exchange for that."
Dec. 20, 2017, 5:55 p.m.: This story has been updated.