Henry Louis Gates Jr.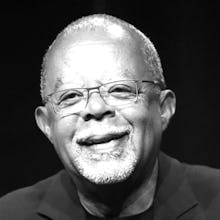 This article is a part of the Black Monuments Project, which imagines a world that celebrates Black heroes in 54 U.S. states and territories.
Henry Louis "Skip" Gates Jr. is a historian, scholar, literary critic and filmmaker whose career centers rich narratives of the African diaspora. His cultural contributions span the world of academia, with books of critical analysis on black history, literature and popular culture. In the 21st century, he's made a name in helping notable people piece together their ancestry on the PBS docuseries Finding Your Roots.
Gates was born Sept. 16, 1950 in in Keyser, West Virginia. His father, Henry Louis Gates Sr., worked in a paper mill and as a janitor, and his mother, Pauline Coleman, was a housekeeper. When his grandfather died at the age of 9, his dad showed him an important photo his grandfather preserved: an image of Jane Gates, his ancestor, who was a former slave. That moment inspired him to search for answers in his own family tree, which he now does for others in Finding Your Roots.
Before landing on prime-time television, Gates was a bright student, graduating at the top of his high school class. He went on to Yale University, where he received his bachelor's degree in history in 1973. He then became the first black person to receive a doctorate's from the University of Cambridge's Clare College in 1979. Throughout his academic career, Gates published several texts on black literature, including The Signifying Monkey: Towards a Theory of Afro-American Literary Criticism in 1988 and A Theory of Afro-American Literary Criticism, which received the American Book Award in 1989.
Gates also conceived several insightful historical miniseries about the African diaspora, including Wonders of the African World (1999), Black in Latin America (2011) and The African Americans: Many Rivers to Cross (2013).
Today he continues to write; two books were published in 2017: 100 Amazing Facts About the Negro and The Annotated African American Folktales. He is also the director for African and African-American research at Harvard University. As a noted historian, Gates has documented and explored the deep-rooted legacies of black Americans more than most, and for this we honor him today.