Trump tries to convince himself that Republicans will be OK in the 2018 midterms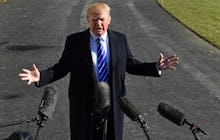 Republicans are seeing a stream of dire news about their 2018 midterm election hopes, with multiple polls indicating that voters want Democrats to control Congress in 2018 — by a double-digit margin.
President Donald Trump, however, is once again projecting an air of confidence amid this bad news for his party. In a Monday morning tweet riddled with inaccuracies, Trump bragged about his political instincts, slammed the media (again) and promised that Republicans will be just fine come 2018.
"Remember, Republicans are 5-0 in congressional races this year," Trump tweeted. "The media refuses to mention this. I said Gillespie and Moore would lose (for very different reasons), and they did. I also predicted 'I' would win. Republicans will do well in 2018, very well!"
There are many problems with this statement. Trump's tweet leaves out the inconvenient truths about Republicans' high-profile losses in special elections across he country.
First of all, Republicans have not gone "5-0 in congressional races." Just last week, the GOP lost what should have been an easy-to-win Senate special election in the deep-red state of Alabama when Democratic Senator-elect Doug Jones defeated Republican Roy Moore.
Democrats also won a special election earlier in the year in California's 34th District, which became vacant when Democrat Xavier Becerra left the seat to become California's attorney general.
Even more, while Republicans did in fact win five House special elections, they all took place in districts Trump won in 2016. And the results of those five races swung toward Democrats by an average of 16 points, according to an analysis by FiveThirtyEight.
"If history holds (and, of course, it may not), the special election results portend a Democratic wave in 2018," FiveThirtyEight's election guru Harry Enten wrote.
Trump's tweet also leaves out the fact that Democrats have been outperforming their 2016 margins in state legislative special elections — winning a number of races in districts Trump carried less than a year earlier.
Democrats have flipped 13 state legislative districts across the country since Trump's presidential win, according to data compiled by Daily Kos Elections.
Republicans, on the other hand, flipped just one.
But the GOP is hoping that passing its tax bill will help save its majority.
Polls, however, show that the bill is unlikely to help.
The tax reform plan is immensely unpopular among voters, with just 26% approving the bill, according to a Quinnipiac poll released last week.
All told, the last time Republicans saw polling data this bad was in 2008. This was before Democrats expanded their congressional majorities in a sweeping wave that gave them a supermajority in Congress.