Trump says he's not firing Robert Mueller after speculation and attacks intensify over the weekend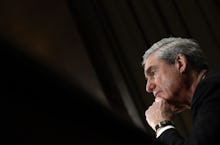 Following his Sunday evening return to the White House from Camp David, President Donald Trump denied rumors that he would fire special prosecutor Robert Mueller from his investigation into whether the Trump campaign colluded with the Russian government.
"No, I'm not," Trump responded when asked if he was going to fire Mueller.
The president's denial follows a weekend of intensifying speculation over the special prosecutor's fate, as the president's lawyers and allies have ramped up their rhetoric and accusations against the ongoing investigation into the Trump campaign's potential collusion with Russia.
Rep. Jackie Speier (D-Calif.) stoked the speculation on Friday, in an interview with public radio affiliate KQED, when she relayed a rumor that Trump would fire Mueller on Dec. 22
"The rumor on the Hill when I left yesterday was that the president was going to make a significant speech at the end of next week," Speier said. "And on Dec. 22, when we are out of D.C., he was going to fire Robert Mueller."
White House special counsel Ty Cobb denied Speier's claim in a statement to CNN Saturday, maintaining that "there is no consideration of firing the special counsel."
According to a CNN report published Monday, Trump predicts he will be cleared of any wrongdoing within the coming weeks and expects Mueller to give him a "letter of exoneration" he can brandish. If that doesn't happen, however, sources warn that a "meltdown" from the president could be imminent.
"He'll try and fire Mueller and then be impeached," a source predicted to CNN.
Despite Trump's reported confidence, Mueller's investigation seems to be approaching Trump's inner circle: Former national security adviser Michael Flynn has already pled guilty to the FBI, former campaign manager Paul Manafort has been indicted and Trump's son-in-law Jared Kushner is reportedly planning to hire a crisis public relations firm.
Transition emails and Trump's lawyers' response
As part of Mueller's investigation, Axios reported Saturday that the special prosecutor has obtained "tens of thousands" of emails from Trump's transition team — a collection now sparking backlash from the president's lawyers.
The emails, according to Axios, come from 12 accounts on Trump's political leadership and foreign policy teams during the transition, including Kushner. Messages include "sensitive exchanges" on such topics as "potential appointments, gossip about the views of particular senators involved in the confirmation process, speculation about vulnerabilities of Trump nominees, strategizing about press statements and policy planning on everything from war to taxes."
Mueller's team gained access to the emails through the General Services Administration, a government agency that provided the transition team with office space, phones, laptops and government email accounts, which were used to send the seized emails, BuzzFeed News noted. According to Axios, Trump officials were made aware that Mueller's team was in possession of the emails when they were used in lines of questioning while interviewing witnesses.
Now, some members of the transition team appear to be attempting to discredit Mueller's investigation by arguing that the emails were obtained illegally. Transition team counsel Kory Langhofer sent a letter to members of Congress on Saturday decrying the GSA for turning over the emails as "unlawful conduct" that violates the Fourth Amendment. In the letter, Langhofer argued that the emails are property, even though they were sent on government email accounts.
GSA's decision to turn over the emails, the letter alleged, "will impair the ability of future presidential transition teams to candidly discuss policy and internal matters that benefit the country as a whole."
The letter also noted that Mueller's team "has extensively used the materials in question, including portions that are susceptible to claims of privilege."
"Not looking good, it's not looking good — it's quite sad to see that, my people were very upset about it," Trump said about the emails on Sunday, according to the New York Times. "I can't imagine there's anything on them, frankly, because, as we've said, there's no collusion, no collusion whatsoever."
In response to the letter, a spokesman for the Special Counsel's Office, Peter Carr, said in a statement to Buzzfeed: "When we have obtained emails in the course of our ongoing criminal investigation, we have secured either the account owner's consent or appropriate criminal process."
The transition team's attempt at discrediting Mueller for acquiring the potentially damaging emails, however, may not have any legal standing. GSA Deputy Counsel Lenny Loewentritt, whom Langhofer specifically blames in the letter, told BuzzFeed that transition team members were informed that materials created and stored using the GSA's government devices "would not be held back in any law enforcement" actions. The transition team members also signed agreements that said the devices could be audited or monitored, and "therefore, no expectation of privacy can be assumed."
Members of former President Barack Obama's transition team, too, noted that the Trump lawyer's argument wasn't legally sound.
"There is no expectation of privacy in transition emails: 1) they have a .gov address; 2) they were created with govt-supplied equipment; and 3) they sat on govt servers. This is just whining from Trump team," Chris Lu, the executive director of Obama's 2008 transition team, wrote on Twitter.
Langhofer later confirmed that he had not brought up his concerns with Mueller or the GSA directly before sending the letter, saying that he would do so "in due course" — a move that critics say further points to the letter being no more than a "PR stunt" to discredit the investigation.
This is the second recent attack that those loyal to Trump have levied against the special prosecutor. Previously, they had smeared Mueller and the FBI as politically biased after it was revealed that FBI counterintelligence agent Peter Strzok, who was an investigator on Mueller's team, was dismissed from the investigation over the summer after it was discovered he sent text messages that disparaged Trump during the campaign.
"The public trust in this whole thing is gone," Rep. Jim Jordan (R-Ohio) said during a recent Congressional hearing, according to the New York Times. "It seems to me there are two things you can do: You can disband the Mueller special prosecutor, and you can do what we've all called for and appoint a second special counsel to look into this."
Trump also used the text messages as an opportunity to publicly attack the FBI on Twitter earlier this month, "After years of Comey, with the phony and dishonest Clinton investigation (and more), running the FBI, its reputation is in Tatters - worst in History! But fear not, we will bring it back to greatness."
Trump allies and officials are starting to publicly disparage Mueller's investigation.
In the wake of the text messages and attack on the GSA and Mueller over the transition emails, Trump administration officials and other allies of the president began ramping up their attacks against Mueller and his investigation over the weekend. The recent escalating attacks mark a change in strategy, the New York Times noted, as officials have previously sought to cooperate with the investigation in hopes it will quickly come to an end.
Jesse Watters, an anchor on Fox News, openly decried the investigation as a "coup in America" in response to Strzok's messages, telling viewers: "The scary part is we may now have proof the investigation was weaponized to destroy his presidency for partisan political purposes and to disenfranchise millions of American voters. Now, if that's true, we have a coup on our hands in America."
The network then used the phrase "A coup in America?" as a caption as Watters spoke with Trump adviser Kellyanne Conway. She also criticized the investigation, telling Watters that investigators "can't possibly be seen as objective or transparent or even-handed or fair."
In an appearance Sunday on CNN, Treasury Secretary Steven Mnuchin was also quick to downplay the investigation, though he said he didn't "have any reason to believe" that Trump would fire Mueller.
"It's a giant distraction," Mnuchin said about Mueller's investigation. "Nobody has said that in any way this impacted the election. ... I think it should be over quickly, because I think there's nothing there."
Trump is criticizing Rod Rosenstein.
While his allies go after Mueller and the FBI investigation, Trump's displeasure is apparently focused on Deputy Attorney General Rod Rosenstein — the man whose firing could lead to Mueller's dismissal.
According to a Washington Post report published Sunday, Trump is apparently "sharply critical" of Rosenstein, calling him "weak" and saying he's shown insufficient accountability on the special counsel's work. Trump has apparently also referred to Rosenstein — a Republican who was appointed as U.S. attorney general in Maryland by former President George W. Bush — as a "Democrat" and believes he could be a threat to his presidency.
Mueller's investigation is independent of the White House and Sessions has recused himself from the investigation, making Rosenstein the sole person capable of firing Mueller. If Trump were to fire Mueller, he would have to do so either by persuading Rosenstein or by repeatedly firing Justice officials until he finds one willing to do his bidding, as President Richard Nixon did during the "Saturday Night Massacre" in 1973, when he fired special prosecutor Archibald Cox.
Rosenstein is unlikely to fire Mueller on Trump's behalf; the official explicitly defended Mueller during a recent congressional hearing and said he has no cause to fire him. Trump's distaste for him could signal Rosenstein will imminently be let go — and replaced by someone who will.