Ivanka Trump said Americans "want" the new Republican tax bill. But most people don't.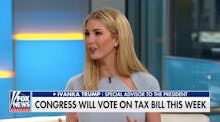 On Monday morning, first daughter and adviser to the president Ivanka Trump appeared on Fox & Friends to promote the Republican Party's tax reform initiative, asserting the bill would be a welcome change for the American people.
"This is something the people of this country want," Trump said, framing the legislation as a boon for the middle class and small businesses. "They want lower corporate taxes."
Though Trump told the morning show hosts the tax bill has support from Democrats nationwide, reality tells a different story: Multiple polls show the proposed tax bill is actually wildly unpopular.
A recent Harvard-CAPS Harris poll found that 64% of respondents said they opposed the Republican tax bill. Among Democrats and independents, those numbers were even higher: 89% of Democrats and 70% of independents said they opposed it.
In a Marist survey, 52% of respondents said they expected the GOP bill would hurt them and their families. After evaluating an earlier version of the Senate tax bill in November, the nonpartisan Congressional Budget Office determined the proposed reforms would harm the poor but slash taxes for the rich.
The latest version of the tax bill, the so-called Tax Cuts and Jobs Act, is expected to face a House vote Tuesday. Speaking on Monday, Trump seemed confident it would pass quickly.
"We feel very, very confident," she said. "The momentum is there. We're very excited ... We're going to deliver historic tax reforms."