Why a DACA fix before year's end looks increasingly unlikely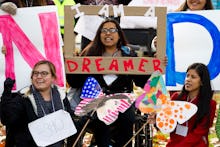 Amid the year-end scramble among lawmakers to reach a deal on the federal budget, a fix for the hundreds of thousands of young undocumented immigrants living in the U.S. hangs in the balance.
But as the Friday deadline to reach a deal approaches, the two sides of the battle continue to drift further apart on the issue.
A bipartisan group of lawmakers in the House's centrist Problem Solvers caucus, which was created in January, have been working on a solution that would include a path to citizenship for DACA recipients — along with increased border security measures to placate conservatives. That solution, should it emerge, now appears to be lawmakers best hope at resolving the issue before the end of the year.
But as lawmakers continue to work out details of that provision, conservatives in the Senate are pushing their own versions of a DACA fix, which are likely going to be non-starters for many members of Congress.
Sens. Chuck Grassley (R-Iowa) and John Cornyn (R-Texas) have introduced a bill that would allow DACA recipients to stay in the country, but would not grant them a path to citizenship, instead offering only three years of protected status.
Another conservative proposal put forward by Sens. James Lankford (R-Okla.) and Thom Tillis (R-N.C.) would allow for a path to citizenship, but wouldn't allow DACA recipients to sponsor family members for green cards.
Meanwhile, immigration activists are hard at work pressuring Democratic leaders to support what they call a "clean" and permanent DACA fix — i.e. one that includes a path to citizenship and does not include any increased border security measures.
On Friday evening, seven DACA recipients, including former Bernie Sanders campaign staffer Erika Andiola, were arrested while sitting in at the office of Senate Minority Leader Chuck Schumer (D-N.Y.). The group was calling on the lawmakers to demand a Clean DACA fix in the upcoming budget negotiations.
Those seven remain in jail, and are currently engaging in a hunger strike to maintain pressure on lawmakers.
"We have been in jail for four days now. We haven't eaten since Friday morning. We are tired. Our parents and communities are worried about us. But I am willing to risk deportation because I have nothing else to lose," one of the jailed protesters said in a message communicated through spokesperson Candice Fortin.
Today, immigrant rights groups across the country kicked off a week of actions aimed a pressuring key lawmakers on a clean DACA fix.
DACA recipients and immigration advocates told Mic in October that any deal that includes increased border security would be a betrayal to their family members who don't qualify for DACA and would push the broader undocumented community "deeper into the shadows."
The divide between activists' demands and the debate in Congress is emblematic of the political shift that the Trump administration's harsh policies on immigration have initiated.
As immigrant communities facing a major crackdown from the Trump administration seek broader protection, sympathetic lawmakers in Washington deal with the harsh realities of Trump's executive authority over immigration policy, and are seeking to carve out the best possible deal.
The result is a high-stakes negotiation for an increasingly uncertain compromise that, if achieved, could result in more border security agents arresting more members of the undocumented community, even as DACA recipients are offered some form of relief.
Either that, or lawmakers will push debate on the issue into the next calendar year, and risk allowing protections for DACA recipients to expire, leaving nearly 800,000 young immigrants with no protections whatsoever.