After reports of actresses wearing black to the Golden Globes to protest harassment, backlash ensues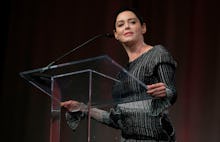 Last week, People reported that several actresses and presenters at the Golden Globes on Jan. 7 will be wearing all-black outfits as a sign of protest against past and continuing sexual harassment and abuse in Hollywood.
It comes at a time when many actors — including Salma Hayek, Lupita Nyong'o, Terry Crews, Angelina Jolie, Trace Lysette, Rose McGowan and many others — have spoken out about sexual harassment and abuse by various extremely powerful men in Hollywood, including producer Harvey Weinstein, actor Kevin Spacey, director Brett Ratner, actor Jeffrey Tambor and agent Adam Venit, among others too.
But now, some are saying that's not a bold or sufficiently effective statement. Actress Rose McGowan, who has been incredibly vocal on social media about Harvey Weinstein and many other sexual abuse allegations that have come out, was one of the first people to come out against this notably subtle symbol of protest at the Globes.
In a tweet that's now deleted, McGowan wrote: "Actresses, like Meryl Streep, who happily worked for The Pig Monster [Weinstein], are wearing black at the Golden Globes in a silent protest... Your silence is the problem. You'll accept a fake award breathlessly and affect no real change. I despise your hypocrisy."
She then added: "Maybe you should all wear Marchesa." For those who don't know, Marchesa's designer is Georgina Chapman, who is Harvey Weinstein's recently-separated wife.
In response, actress Amber Tamblyn weighed in with a different opinion on the matter.
"I do not support any woman (or man) shaming or taunting the movements of other women who are trying to create change," Tamblyn tweeted. "Telling us to all wear Marchesa? This is beneath you, Rose."
"Our movement is big," Tamblyn continued. "And a black dress is just the beginning of the darkness that will be drained from every industry across the country by the time we're done. That's a promise."
Then on Monday afternoon, Meryl Streep responded to McGowan directly, offering the Huffington Post a statement that began: "It hurt to be attacked by Rose McGowan in banner headlines this weekend, but I want to let her know I did not know about Weinstein's crimes, not in the '90s when he attacked her, or through subsequent decades when he proceeded to attack others. I wasn't deliberately silent. I didn't know. I don't tacitly approve of rape. I didn't know.  I don't like young women being assaulted. I didn't know this was happening."
She continued: "I am truly sorry she sees me as an adversary, because we are both, together with all the women in our business, standing in defiance of the same implacable foe: a status quo that wants so badly to return to the bad old days, the old ways where women were used, abused and refused entry into the decision-making, top levels of the industry. That's where the cover-ups convene. Those rooms must be disinfected, and integrated, before anything even begins to change."
In terms of the planned protest at the Globes, certainly women wearing all-black outfits at the Globes is a subtle move, because many attendees (including nearly every man) do wear all-black ensembles already. If this movement had been for women to wear all-red or all-pink ensembles, maybe it'd be bolder and more clear. Is a red carpet political statement in any way, shape or form really effective enough to make real change? We doubt that.
Regardless of color choice or how noticeable this protest will be, there is importance in several high-profile women at the Globes uniting sartorially to protest harassment on such a public red carpet event. It's a first step.
Instead of red carpet interviewers asking who these women are wearing, maybe they'll ask: "And why did you choose all black?" and an important conversation can take place.
Dec. 18, 2017, 7:58 p.m.: This post has been updated.