Meet Olori, the new handbag brand that's funding education for girls in Africa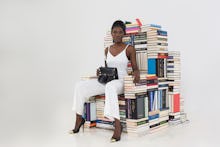 Before Tomide Awe ever thought about designing handbags, she was thinking about how she could use her own skills to improve girls' education in Africa.
Awe herself grew up in Nigeria, a place where, according to the brand, a girl has a 73% chance of not going to school. But because her parents were committed, she did.
"When I think about education in general, I first think about my mom," Awe said in an interview with Mic. "My mom did not come from an affluent family, and her mom was an illiterate. My parents sold a lot of things to ensure that we could get the best education possible. That's why I have three degrees right now! It really is a very personal experience for me."
While finishing her MBA at the Wharton School of the University of Pennsylvania, she started to think about creating a brand that could leverage the beauty and cultural richness in Africa to solve this problem of African women's education.
That's how Awe's brand Olori, which launched in October, was born. With philanthropy a priority, for every Olori bag sold, one month of a girl's education in Africa is funded. Thus far, Awe estimates Olori has funded 60 months of education, or a year for five girls.
"I thought about clothes and things like that but I wanted something women could carry that is significant for women," Awe said. "Every woman has a handbag, right? It was also symbolic because I wanted it to be a brand that could carry other girls up and women up."
With these bags, she's trying to raise people's awareness of African and African craftsmanship up in the world.
"I studied in the U.K. and the U.S., and if you look at the handbag market in general, it's very European or Western-inspired," Awe said. "People would travel to Africa and come back with African goods, but they would spoil. You have either very low quality or very, very high quality that is inaccessible. I wanted to put Africa on the map in a way that everyone can afford and appreciate."
In order to do that, Awe incorporated a traditional type of treasured African textile used by the Yoruba people in Nigeria in the lining and outside of the bags.
"The textiles we use are Aso-oke," Awe said. "These materials are traditionally hand-woven by men, using techniques passed down for generations. We work with women-owned businesses that own the design and the sales process. The textiles are so symbolic. We use them for weddings and parties."
Beyond just focusing on girls education in Africa, Awe makes a concerted effort to work with women in Africa for the resources needed to produce Olori's goods as well.
"Olori means 'queen' and it's very reflective of our brand," Awe said. "There are women-related issues we are all aware of, but it takes women to solve the challenges that we face. I think about, like celebrity women. They have a huge platform. When they speak things can actually happen. Then there are women like me, regular women. We don't have such a huge platform, but there are things we can do to help women By buying a handbag, you can make a difference in someone's womanhood. Olori is just supposed to be a brand where we get all women involved."
"By buying a handbag, you can make a difference in someone's womanhood. Olori is just supposed to be a brand where we get all women involved."
Looking ahead in the future, Awe sees Olori expanding, with a hope to fund at least a month's education for 100 girls by the end of the year.
"We want to have more variety of products," Awe said. "Right now we have some that are very modern, African textiles. Next year we're thinking of making some that are pretty bold. Our initial focus has been Nigeria and we'd like to expand our impact in Africa and non-African countries. Africa might not be the richest, but I want Olori to be that brand that leverages that culture to give back to the world."