Rihanna, the only good thing about 2017, has gifted us a Fenty Beauty lip shade called "PMS"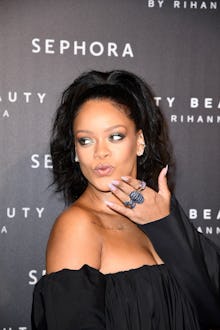 Rihanna is helping us close out 2017 — the year that almost broke every single one of us — on a high note.
On the day after Christmas, Rihanna's Fenty Beauty is releasing its new array of bright, matte lipsticks — which she's cleverly coined as her "Mattemoiselle" lipsticks. In true Rihanna fashion, she's spicing the name of each color: The green shade, for instance, is inexplicably called "midnight wasabi," the purple is "one of the boyz" and on Monday, Rihanna revealed that the brown shade is — wait for it — "PMS."
As in, you know, premenstrual syndrome, a.k.a. the symptoms women feel as their periods are about to arrive, including cramps, acne, mood swings and an unbelievable need for chocolate and carbs. (But maybe that's just us.)
In a beauty world full of cute and flirty makeup names, Rihanna just became the queen of menstrual cycle awareness. Bow down.
Her fans, as expected, are extremely here for it.
And so are we. After posting the shade on her Instagram, Rihanna herself responded to a fan who wrote in: "You look high as shit" with "or PMS'd."
Rihanna, with Fenty Beauty, is out here to beautify and educate all at once.