Democrats demand answers on why Trump administration banned words like "transgender" and "diversity"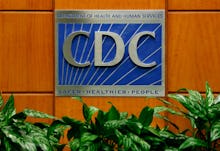 Congressional Democrats are demanding answers after it was reported Friday that the Trump administration banned the Centers for Disease Control and Prevention from using certain words in preparing its budget for the next fiscal year. The banned words include "transgender," "diversity," "fetus," "evidence-based" and "science-based," the Washington Post reported.
"We are incredibly concerned by this unconscionable restriction on agency communications and the message this sends regarding the critical health and scientific work of the department," Sen. Patty Murray (D-Wash.) and Rep. Frank Pallone (D-N.J.) wrote in a letter Monday to the acting secretary of Health and Human Services, which oversees the CDC.
In their letter, Murray and Pallone said the "explicit prohibition on the use of certain words or phrases unnecessarily inserts ideology into the work of the CDC."
They also demanded to know the justification for the ban and how it would be implemented.
Brenda Fitzgerald, director of the CDC, denied any words had been banned at the agency. "I want to assure you there are no banned words at CDC," Fitzgerald tweeted Sunday. "We will continue to talk about all our important public health programs."
An HHS spokesman, however, didn't deny there was a ban. Instead, he played down the report, telling the New York Times the noting of "banned words" is a "complete mischaracterization of discussions regarding the budget formulation process."
Either way, Democrats want to know what directive has been given at HHS regarding the words.
"The department's leaders cannot both uphold a commitment to prioritizing science over politics and ideology and support prohibiting the use of key words and phrases that are central to the broader health mission of the department," Murray and Pallone wrote.