'Kummerspeck,' or grief bacon, is the German word for what happens when you eat when you're sad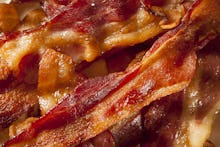 In the U.S., we've got Ben & Jerry's. In Germany, it's all about "kummerspeck." While there's no direct German-to-English translation, the word roughly translates to "grief bacon" or "sorrow fat." This fascinating term refers to the emotional eating — and probable weight gain — after a pain-inducing event, like a breakup, or a particularly difficult year of politics.
While classic American tropes often suggest pints of ice cream as the proper form of sustenance for the brokenhearted, the German term incorporates the word "speck," which means pork fat. There is no hard and fast rule that dictates what we should eat when we're eating our feelings, though bacon seems like a pretty good option. But it's nice to know that the act alone is cross-cultural.
The concept of kummerspeck is simple: food is comfort. Fatty foods in particular have been shown to have a powerful effect on the brain. A small 2011 study published in the Journal of Clinical Investigation revealed that eating foods with saturated fat can help fight off negative emotions. The research found that certain hormones in the stomach "communicate" with the brain, influencing our mental state.
A cursory internet search shows that Germans tend to use the term to describe a post-break-up state. But after a year like 2017, we're in support of everyone embracing kummerspeck, no matter your relationship status.