Two more immigrant teens face new court battle to obtain abortions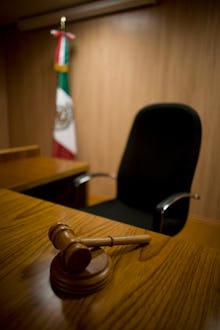 A federal judge ruled Monday that the Trump administration has to stop its blocking of two unaccompanied minors being held in detention facilities from obtaining abortions, but gave the government 24 hours to file for a stay in the case.
Lawyers with the American Civil Liberties Union had asked for the order Monday on behalf of Jane Roe and Jane Poe, two immigrant teens currently held at Office of Refugee Resettlement shelters. One of the teen girls in the latest filing is already 22 weeks into her pregnancy, while the other is 10 weeks into hers, attorneys said in court Monday. Both teens requested abortions, but officials at the shelters where they are being held have refused to transport them, according to the ACLU.
Earlier this year, the ORR had delayed the abortion of a 17-year-old Jane Doe for a month before the teenager managed to terminate her pregnancy.
"We've already stopped the Trump administration from blocking one young woman's abortion," Brigitte Amiri, the senior staff attorney with the ACLU Reproductive Freedom Project, said in a statement before Monday's hearing. "But the Trump administration is relentless in its cruelty, blocking abortion access for the most marginalized people in our country."
Washington, D.C., District Judge Tanya S. Chutkan, who made the ruling Monday, was also the same judge to grant a temporary restraining order against the government in Jane Doe's case. The Trump administration had appealed that decision, delaying Doe's abortion and bringing her close to 20 weeks into her pregnancy, at which point her abortion would have been illegal in Texas, where she is still being held.
The full D.C. District Court upheld Judge Chutkan's order and Jane Doe terminated her pregnancy in October.
In November, the Department of Justice requested that the district court's order allowing Jane Doe to obtain an abortion be vacated. ACLU attorneys said the move was a way to remove precedent from future lawsuits on behalf of unaccompanied minors. Attorneys with the Reproductive Freedom Project have asked the court to certify a class of pregnant women at ORR facilities.
"We're prepared to keep fighting for as long as we need to," Amiri said in a statement following the decision on Monday.
Scott Lloyd, a pro-Life activist who currently heads the ORR, testified before a Congressional committee in October that decisions regarding minor's use of contraceptives or access to abortion would be reviewed by him personally on a "case-by-case" basis.
Lloyd's policy represents a departure from his predecessor, Robert Carey, who was appointed by President Barack Obama.
"I wasn't approving the right to the procedure," Carey told Politico in October. He said his office did not get involved if teens found an independent funding source, and only reviewed cases if the minor was asking for federal funds to pay for abortions. These cases were approved if the mother's life was in danger or the pregnancies were a result of rape or incest.
The ACLU claims Lloyd has personally counseled young women to forego abortion and that, in one case, ORR transported a teen girl who had taken an abortion pill to the hospital to prevent her from terminating the pregnancy.