Arturo Schomburg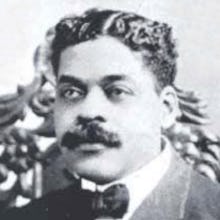 This article is a part of the Black Monuments Project, which imagines a world that celebrates Black heroes in 54 U.S. states and territories.
Arturo Alfonso Schomburg's zeal for black history drove him to collect thousands of materials capturing the black experience. Since 1940, the New York Public Library has honored his legacy at the Schomburg Center for Research in Black Culture in Harlem.
Schomburg was born Jan. 24, 1874 in San Juan, Puerto Rico. His mother, Maria Josepha, was a woman of African descent from the Virgin Islands. According to Arturo, his father, Carlos Schomburg, was of Puerto Rican and German descent.
During his formative years, he became interested in Spanish liberation movements led by Cuban and Puerto Rican activists. After hearing of a larger movement growing in New York, Schomburg left the Caribbean and moved to Manhattan's Lower East Side in April 1891 and formed the Las Dos Antillas, a revolutionary group that funded insurrections on the islands.
This group disbanded after Spain handed control of Puerto Rico, the Philippines and Cuba to the United States at the Treaty of Paris of 1898.
In the years following, Schomburg began to identify with black American culture and politics. Exposure to the black community during a visit to New Orleans — and in Virginia and Memphis, where the children of his second wife lived — inspired him to document black American life.
With the help of his friend and historian John Edward Bruce, Schomburg deeply studied the past and founded the Negro Society for Historical Research in 1911. In 1924, Schomburg visited Seville, Spain, and uncovered history about African people in the Caribbean. In 1929, he was hired as a curator at Fisk University, a historically black college in Nashville, Tennessee.
In 1925, the NYPL began the Division of Negro Literature, History and Prints, which later became known as the Schomburg Center for Research and Black Culture. By the following year, Schomburg's collection of books, articles and manuscripts were added to the database. In 1932, Schomburg was named curator and led the division until his death on June 8, 1938 in Brooklyn, New York.
Today, the Schomburg Center for Research and Black Culture serves as one of the premier institutions of learning about the black experience. In January 2017, the National Parks Center named the center a national landmark. It's now time to further recognize the man behind the books and the letters.