When the Republican tax bill will likely pass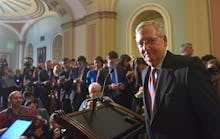 Welcome to Mic's daily read on Donald Trump's America. Want to receive this as a daily email in your inbox? Subscribe here.
Tuesday's dispatch: How the tax reform vote will proceed
House Republicans on Tuesday will vote on the Tax Cuts and Jobs Act. The bill will then head to the Senate, where the GOP is expected to have the votes for passage, even with Sen. John McCain (R-Ariz.) absent. The vote there is expected late Tuesday or early Wednesday.
Sen. Susan Collins (R-Maine) announced her support for the tax bill on Monday, even though 66% of Mainers said in November that they want her to oppose the bill. Sen. Bob Corker (R-Tenn.) has stood by his decision to flip to supporting the tax legislation. Corker has denied this change had anything to do with a last-minute provision that will financially benefit him and others who own large amounts of real estate.
The final bill could be signed into law by President Donald Trump as early as Wednesday. That will mark a years-in-the-making achievement for House Speaker Paul Ryan (R-Wisc.) and Senate Majority Leader Mitch McConnell (R-Ky.), and Trump will get his first major piece of legislation passed.
With the tax bill's passage expected, the cuts made to the federal budget will shift policy making in 2018. Ryan has already said he hopes to use 2018 to reform programs like Social Security, Medicare and Medicaid. The trillion dollar tax cut this bill creates, even when factoring increased revenue from economic growth, will eventually have to be paid for.
It also gives Republicans a win that will fire up their core supporters — and alienate the GOP from the rest of the country. But the true political value of tax cuts is far from clear.
Republicans hope that the next 10 months give enough time for their bill to become popular. But the legislation's historic unpopularity and lessons from past tax cut measures suggest the GOP should not expect to win over the 50% of Americans who said in an NBC/Wall Street Journal poll they now want to see Democrats control Congress.
In all likelihood, Republicans will end 2017 passing a tax bill with no Democratic support, and will enter an election year aiming to reform popular programs, like Medicare and Social Security.
The latest polling: Monmouth University found only 26% of Americans support the tax plan and half believe it will make their taxes go up.
Today's question: Are you surprised Republicans have the votes to pass their tax plan? Or did you expect this outcome?
Please email us your thoughts at trumpsamerica@mic.com.
Tuesday in Trump's America:
The tax bill's impact: The largest reform of the U.S. tax code since the 1980s will give most Americans a tax cut in 2018. But over time, the largest cuts will go to wealthier Americans and large corporations.
The provisions that most worried leaders at U.S. universities were cut from the final bill, but presidents of over a dozen small colleges and Ivy League universities who spoke with Politico still expressed deep concern about how Republicans initially aimed to attack higher education institutions during tax reform. And large cities in liberal states are worried that losing the federal deduction for local state and income taxes will lead to calls to slash those revenue sources.
Disaster aid: The House introduced an $81 billion disaster aid bill on Monday that would help Florida, Texas and Puerto Rico recover from 2017's devastating hurricanes. Funds would also help California recover from wildfires.
Sexual harassment: Rep. Brad Sherman (D-Calif.) created an office environment in California and Washington, D.C., that made his staff too uncomfortable to report sexual harassment by the congressman's longtime aide and current California Assemblyman Matt Dababneh, McClatchy reports.
And the Hill's Office of Compliance, which handles personnel complaints in the Senate, denied Sen. Tim Kaine's (D-Va.) request for data on sexual harassment claims — information he said he'd release publicly.
Judges: A third Trump judicial nominee is now out of the running due to concerns he was not qualified for the position. Matthew Petersen faced criticism after a video went viral last week where he demonstrated a blatant lack of legal experience.
Democrats to Iowa: The New York Times details how the New York-centric stable of potential 2020 Democratic contenders have begun to explore Iowa, the first-in-the-nation presidential caucus.
Manchin on Trump: Sen. Joe Manchin (D-W.Va.) is considered one of the most vulnerable Democrats running for re-election in 2018. But he says he's not worried, largely because he believes the president is not keeping his promises to the West Virginia voters who supported Trump by 42 points.
We the People: The website launched by President Barack Obama that let Americans petition the White House will be taken down, but the Trump administration says it will be re-launched in January.
DACA: A fix for DACA recipients does not appear likely before the end of the year.
Banning words: Democrats are demanding answers after a report that the Trump administration is banning the CDC from using words like "diversity" and "transgender" in budget documents for the next fiscal year.
Twitter: The social media platform has begun banning white supremacists and "alt-right" leaders.
Facebook bubble: Members of Congress saw more Facebook engagement and reshares when they linked to polarizing news outlets.
Today's MicBite:
Natalie Weaver is a mother to three children, including Sophia, a child with a rare disability. Weaver has been fighting GOP plans to change the Affordable Care Act.
Weaver worries the repeal of the ACA's individual mandate, through the GOP tax plan, will lead to insurers eventually dropping coverage for children with disabilities, like Sophia.
Tap or click below to watch the video. It's powerful.