Congressional compliance office denies Tim Kaine request for data on sexual harassment in the Senate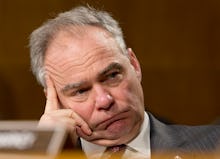 Tim Kaine's request for information on sexual harassment claims in the Senate over the last 10 years has been rejected, the United States Congress Office of Compliance told the Virginia Senator in a letter Monday.
"Earlier this month the OOC provided the Senate Committee on Rules and Administration with a statistical breakdown of settlement amounts involving Senate employing offices from 1997-2017," Susan Tsui Grundmann, executive director of the OOC, told Kaine. "That information represents the full extent of what we can provide with regard to settlements under the CAA involving the Senate. Any additional disclosure would involve an invasive search of strictly confidential records, which would be contrary to existing law."
Kaine had asked in early December for a decade of sexual harassment claims against members of the Senate or their staffs, as well as the dollar amounts of any settlements reached.
He said that he would make the information public "in the interest of transparency."
His Dec. 6 request came as claims of sexual misconduct against prominent politicians, including Sen. Al Franken (D-Minn.) and Rep. John Conyers (D-Mich.), rocked Capitol Hill.
Conyers and Rep. Blake Farenthold (R-Texas) each used taxpayer dollars to settle claims against them — a revelation that "alarmed" Kaine, he wrote in a letter to Grundmann.
"The challenges we face to resolve these widespread problems appears daunting, as each successive week reveals another leader, celebrity or media personality accused of reprehensible behavior," the Virginia Democrat wrote. "Viewing the data behind the problem, however, will shed light on the issue and help us develop solutions to combat sexual harassment and ensure true accountability."
But Grundmann told Kaine Monday that providing such information would violate confidentiality provisions of the Congressional Accountability Act and that the information they have might not be reliable — despite having provided similar information to the House Administration Committee recently.
The reasoning behind the seemingly inconsistent responses was not clear as of Tuesday morning.
Kaine, Hillary Clinton's running mate in the 2016 presidential race, called the OOC's decision "very disappointing" in a statement.
"If we truly want to fix the broken system on the Hill, we need to understand the scope of the problem," he said.