After Meryl Streep statement, Rose McGowan apologizes for criticizing the Golden Globes protest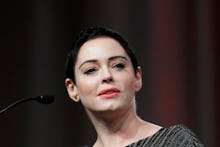 "There is no map for this road I'm on, I will fuck up."
Those are the words actress Rose McGowan used after criticizing the protest against sexual harassment in Hollywood that will reportedly have high-profile actresses and presenters wearing all-black ensembles to the 2018 Golden Globes.
Over the weekend, McGowan wrote in a tweet that's since been deleted: "Actresses, like Meryl Streep, who happily worked for The Pig Monster [Weinstein], are wearing black at the Golden Globes in a silent protest... Your silence is the problem. You'll accept a fake award breathlessly and affect no real change." She then ended on: "Maybe you should all wear Marchesa," which is a dig to the brand whose lead designer is Georgina Chapman, Harvey Weinstein's recently separated wife.
That received blowback from actress Amber Tamblyn, who tweeted out: "I do not support any woman (or man) shaming or taunting the movements of other women who are trying to create change. Telling us to all wear Marchesa? This is beneath you, Rose."
This garnered the attention of McGowan's Charmed co-star Holly Marie Combs, who accused Tamblyn over Twitter of doing to Rose McGowan "what you claim you don't support her doing to others."
Streep herself also responded. In a statement to the Huffington Post, the actress offered a lengthy explanation of her interactions with Weinstein.
"It hurt to be attacked by Rose McGowan in banner headlines this weekend, but I want to let her know I did not know about Weinstein's crimes, not in the '90s when he attacked her, or through subsequent decades when he proceeded to attack others," Streep wrote. "I wasn't deliberately silent. I didn't know."
Since then, McGowan has apologized for mocking the protest with the Marchesa line.
"The Marchesa line was beneath me and I'm sorry for that," McGowan wrote on Monday night. "Seeing that picture of Alyssa Milano with [Georgina Chapman] has ignited something in my that I can't quite articulate. There is no map for this road I'm on, I will fuck up. Peace be with you, go with Goddess."
Previously, McGowan got into it with her former Charmed co-star Milano for continuing to support Chapman amidst this constant swirl of allegations that Chapman's husband Weinstein sexual harassed, abused and assaulted women for decades.
With all this talk about this protest already, it'll be very interesting to see how things shake out during the Globes red carpet on Jan. 7.