Trump watered down his national security strategy's harsh language on Russia during address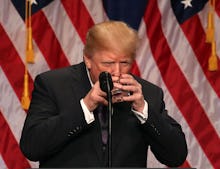 Amid the bluster and bromides of the national security strategy released by the Trump administration Monday, there was strong language describing the threat Russia poses to the United States and its allies in Europe.
"Although the menace of Soviet communism is gone, new threats test our will. Russia is using subversive measures to weaken the credibility of America's commitment to Europe, undermine transatlantic unity and weaken European institutions and governments. With its invasions of Georgia and Ukraine, Russia demonstrated its willingness to violate the sovereignty of states in the region. Russia continues to intimidate its neighbors with threatening behavior, such as nuclear posturing and the forward deployment of offensive capabilities."
It wouldn't normally be notable for an administration to call out Russia.
But President Donald Trump has publicly sought to form a cozier relationship with the Kremlin — despite intense scrutiny over possible collusion between the country and his 2016 presidential campaign — and used significantly different language on Russia during Monday's address.
The U.S. faces "rival powers, Russia and China, that seek to challenge American influence, values and wealth," Trump said in his speech. "We will attempt to build a great partnership with those and other countries, but in a manner that always protects our national interest."
Trump administration can't get story straight on Russia
The strategy's characterization of the Russian threat — and the way Trump glossed over it in his speech — marked the latest round of mixed messages on the Kremlin coming out of the administration.
Trump has repeatedly cast doubt on the widely accepted conclusion reached by U.S. intelligence that Russia meddled in the 2016 election. In recent months, he said he believes Russian President Vladimir Putin's denials of interference.
"He said he didn't meddle," Trump said in November. "Every time he sees me, he says, 'I didn't do that. And I believe, I really believe, that when he tells me that, he means it."
But the White House has also attempted to portray the president as being in line with the intelligence community.
"I think he has made it clear and been consistent that while everyone agrees the result of the election wasn't influenced, he thinks that it probably was Russia," White House press secretary Sarah Huckabee Sanders told reporters in June. "I think, regardless, President Trump has made it clear we have to protect the integrity of our electoral system."
Trump has suggested — without evidence — that the "integrity of our electoral system" was compromised by illegal voting and established a voter fraud panel to look into it. But he's also dismissed the role of Russian interference in the 2016 election, describing it as a "hoax" put forth by Democrats to explain away his upset victory over Hillary Clinton.
He's publicly railed against examinations of his campaign's ties to Russia, attempting to shut down the congressional probes and dismissing the FBI investigation as a politically motivated "witch hunt."
But four former Trump officials, including former campaign chairman Paul Manafort and former national security adviser Michael Flynn, have been brought down by Robert Mueller, and documents released by the special counsel indicate the president's transition team appeared to be coordinating with Russia in the lead-up to the inauguration.
Trump's team has continued to suggest, though, that the Mueller probe is winding down — and Trump's allies have gone on the offensive, slamming the investigation as a biased attempt to undermine the president.
The national security strategy the White House outlined Monday seemed to take a much stronger stance on Russia than the president has publicly advocated, stating the U.S. and Europe "will work together to counter Russian subversion and aggression."
It condemned the Kremlin for working to "undermine the legitimacy of democracies" and attempting to "shape a world antithetical to U.S. values and interests." It also cited China as a "revisionist power."
Trump did not spend nearly as much time discussing the two powers in his address, nor did he speak of them in the stark terms used in the strategy.
Instead, he cited a recent telephone conversation with Putin in which the Russian president reportedly thanked the U.S. for providing information that was used to thwart a terrorist attack in St. Petersburg as an example of the "great partnership" he hoped to forge between Washington and Moscow.
"That is the way it's supposed to work," Trump said.
Every administration puts forth a national security strategy document like the one the White House released Monday, though the president doesn't always speak publicly about it.
Trump's speech hit many of the same notes as his inaugural address in January, saying his strategy is "now putting America first."
"Upon my inauguration, I announced that the United States would return to a simple principle: The first duty of our government is to serve its citizens, many of whom have been forgotten," Trump said. "But they are not forgotten anymore."