2017 had no shortage of drama — but TV comedies kept us going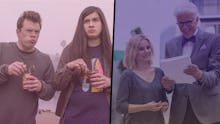 The best television dramas of 2017 were, no doubt, full of affecting and poignant moments that viewers are still processing. There was the first time we (finally) met the never-before-seen Diane (Laura Dern) on Twin Peaks: The Return; there was the sequence when Ofglen (Alexis Bledel) steals a car and gets a fleeting moment of freedom on The Handmaid's Tale; there was the entire heartbreaking finale of The Leftovers and so on.
Yet despite these scenes burrowing deep under our skin, the TV moment from this year that's really stayed with me wasn't from any of the year's best dramas. It's a scene from the pilot episode of the overlooked Comedy Central sitcom Detroiters, when best friends and business partners Sam (Sam Richardson) and Tim (Tim Robinson) are unwinding at a local bar. They order two beers, the bartender asks, "Hot or cold?" and they clarify, with exasperation, that they want cold beer. Cut to: an unnamed, elderly man at the end of the bar, gingerly lifting a piping-hot, steaming beer to his lips. That's the whole joke; Sam and Tim continue their unrelated conversation. (The scene ends a few minutes later, with the bartender asking if the duo want a doggy bag for their unfinished beers.)
There's no complicated explanation as to why I've thought about that scene almost daily, and certainly every time I've ordered a beer since, except for the basic fact that it's just a funny gag. There are few things I craved more in 2017 than purely funny gags. That's also easy to explain: 2017, as every year-end article and every December tweet will remind you, was a terrible year that felt almost completely devoid of humor. So far, it's been 11-and-a-half months characterized by mass shootings, racism and the increased visibility of Nazis, story after story of sexual assault, never-ending bad news on our feeds and, well, Donald Trump — whose presidency has loomed over everything.
Television, which often does its best to reflect the current cultural and political climate, chimed in loudly and frequently (more episodes about the Black Lives Matter movement, storylines calling out abusive men, too many "fake news" punchlines to count, entire series dedicated to parodying Trump), and usually with cathartic results. But, for me, there was such a thing as too much reality and not enough escapism in my favorite shows, and I kept yearning for something lighter.
Sure, I loved The Handmaid's Tale as much as the next person, but it felt too much like leaning into the misery that was already present in our real lives. Even something as light as Freeform's The Bold Type hit too close to home when it focused on media layoffs. What I wanted — needed — was to take a step back and throw myself into something that was pure laughs.
Sitcoms have generally been my preference over drama anyway, and this past year I doubled down on that love. Thankfully, the television industry seemed to be on the same page.
The 2016-17 TV season premiered a plethora of great shows and fortunately, most were great, half-hour comedies. There's Detroiters, of course, but also ABC's short-lived Downward Dog, a quickly canceled series featuring a talking dog that is far more thoughtful than you'd imagine — though it might be worth noting that I was also a big fan of Dog With a Blog a few years ago.
Netflix's Glow was a highlight of the summer and watching Alison Brie endearingly throw herself on the bed while imitating Hulk Hogan was one of the most joyous moments on TV I saw all year. Netflix knocked it out of the park on a number of occasions: The Norman Lear reboot One Day at a Time was so warm, even when it touched upon sexism and immigration, that I watched it twice in a row, while the pitch-perfect true-crime parody American Vandal found humor in high school gossip and 3D renderings of hand jobs.
This was also a perfect year for NBC to try and bring back the "Must See TV" moniker to Thursdays. So much has already been written about The Good Place, arguably the smartest — and most philosophical — comedy on television, and a series that never fails to cheer me up, even when (especially when) the characters I love are plunged further and further into the bad place. What at first seemed like a fun sitcom about Eleanor (Kristen Bell) accidentally ending up in the wrong afterlife has turned into an engaging series about what it means to be a "good person," and the idea that it's never too late for even the worst person to change their ways.
There's my other stealth favorite, Superstore, a laugh-out-loud sitcom that takes place in a big box store. Characters verbally, lovingly spar with each other; there's a genuinely interesting will-they/won't-they situation that began with real challenges (a character's marriage); and even the interstitials are full of peculiar, retail-specific jokes, like customers obnoxiously testing out the items or grabbing the wrong kid while in a rush. When I finished The Leftovers — a nearly perfect drama with insightful ruminations on grief and a broken world — I started rewatching Superstore from the beginning, desperate for laughs. It delivered.
Thursdays also promote Tracey Wigfield's sitcom Great News, which takes place at a cable news network. Following news producer Katie (Briga Heelan) and her helicopter mother-turned-intern Carol (Andrea Martin), Great News is executive produced by 30 Rock's Tina Fey and Robert Carlock and is wonderfully, almost nostalgically, reminiscent of 30 Rock's bizarre workplace humor. But it quickly settles into its own throughout the first short season (the second is currently airing), fully embracing its zany humor and throwaway lines — I had a list of them before realizing it's best to experience them firsthand yourself — as well as the underappreciated comedic genius of Nicole Richie.
Even the fall return of Will & Grace, a series I was never too fond of, was strangely comforting: Amid all of the shittiness in the world, I found simple pleasantness in hearing a studio audience laugh at bad wordplay.
So much of this year has been tied up in despair and hopelessness; so much of this year was trying to figure out ways to wade through darkness. My solution was to throw myself into episodes of series like Fresh Off the Boat while marveling at how weird it's gotten over the seasons (the current season has a Halloween episode that's heavy on costumes referencing Seinfeld and '90s Tom Cruise characters; another focuses on a side character's hilarious obsession with Princess Diana commemorative plates).
I raced through Schitt's Creek, Pop's underrated gem about a spoiled, rich family who suddenly go broke and are forced to live in a shitty motel in a backwoods town, because their problems (grown siblings sharing one room, getting sucked into multilevel marketing schemes) were easily laughable and digestible in the grand scheme of things. I clapped with joy watching Black-ish's Monopoly-centric episode "Advance to Go (Collect $200)" and, well, every episode of The Chris Gethard Show. I've kept the "HalloVeen" episode of Brooklyn Nine-Nine on my DVR because rewatching it is the quickest way to bring about pure joy. I even made it a point to revisit past sitcoms: King of the Hill, Happy Endings, even Reba for some reason.
There might have been "better" shows in 2017 or ones deemed more socially relevant or important, but I can easily make the argument that there were few shows more necessary than, say, American Vandal. During a mostly discouraging year, there's nothing I needed more than a sitcom full of in-depth dick jokes.