Kelly Marie Tran ran into some 'Last Jedi' fans — and the Instagram content is incredible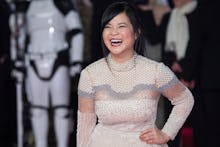 Who else is already tired of the debate over whether Star Wars: The Last Jedi is a masterpiece or a blight on the iconic franchise that's worthy of inspiring multiple Change.org petitions? Good. Me too. Let's talk about Kelly Marie Tran instead.
If you're not familiar, in The Last Jedi, Tran plays Rose Tico, the mechanic who leads one of the film's subplots with Finn (John Boyega). You know, these folks.
What you might not know is that before The Last Jedi, Tran hadn't really been in very many high-profile projects. She was in a few TV shows and some CollegeHumor sketches, but The Last Jedi is her real breakout part, and it's rapidly projecting her to full-fledged celebrity status.
Needless to say, this rapid ascension from relative unknown to blockbuster leading lady is bound to come with some incredibly surreal experiences. Like, say, overhearing a total group of strangers discuss your performance in a coffee shop, completely unaware that the person whose work they're chewing over is seated at the next table.
That's exactly the situation in which Tran recently found herself. So, naturally, she did what any of us would and eavesdropped in on their conversation. Eventually, she walked over, introduced herself, and confessed to listening to their entire conversation. The whole group, including Tran, snapped a photo together — then, she hunted down the fan's post about it on Instagram and hopped in the comments.
"HI!" Tran wrote. "SORRY I AM SO CREEPY and found this photo going through my tagged photos hahaha. I was wondering if I could post this photo on my Instagram? You were the first people I heard talking about the movie and that's special!"
"Of course!!" the picture's poster, Cat Mahoney, wrote back. "That's absolutely fine. It was such a pleasure to meet you and, in case it didn't come through in our incoherent sputtering when we spoke, you were absolutely amazing in the film."
On Monday, a couple days after Mahoney's initial post, Tran posted her side of the story: a video reaction of the moment Tran realized their neighboring table was talking about her. Unsurprisingly, it's extremely endearing and adorable.
"In my eight years as a struggling actor, I came to the realization that the hardest thing to obtain from another human being is their genuine interest," Tran wrote in the caption below her video. "Sometimes, getting someone to listen to your story — your idea — is really hard ... So, thanks, wonderful people, for watching and dissecting and discussing. It made me happy to know we made something that's starting a dialogue."
Eventually, Tran will probably get used to the couture gowns and posing with random fans for selfies. For now, though, she's still new to all this. And watching her handle it with grace and pure joy is a treat.