ModCloth under fire for allegedly copying a designer's feminist T-shirt that benefitted women's orgs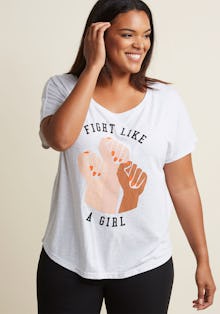 ModCloth, which has long been one of the most progressive and forward-thinking brands in the game, has come under fire for a T-shirt that looks eerily similar to one sold by the design initiative For All Womankind, which benefits women's organizations.
For you to judge, here is ModCloth's T-shirt:
And here's the shirt from For All Womankind:
On Tuesday, graphic designer and For All Womankind founder Deva Pardue announced the similarity on Twitter.
"ModCloth owned by Wal-Mart stole and monetized my copyrighted Femme Fists image which was designed to raise money for women's orgs," Pardue wrote. "They've since ignored two cease [and] desist letters from my lawyer. A shameful example of huge corporations profiting from grassroots movements."
She then addressed Wal-Mart Stores Inc. CEO Doug McMillon (Wal-Mart bought ModCloth earlier this year) and former ModCloth CEO Matthew Kaness: "What do you have to say about this? Where is your profit for these sales going? I've never profited from this image, my small biz For All Womankind has donated [$12,000] to date [and] is donating another [$5,000] before end of this year."
Portions from every sale of For All Womankind's T-shirt go to women's organizations like the Center for Reproductive Rights and Emily's List, according to the website, while sales from ModCloth designs notably do not.
In an email to Mic, Pardue offered a history of the raised fist design she created herself.
"I launched For All Womankind, a design initiative for Fempowerment, in December of 2016 — right after the election — to raise money for the Center for Reproductive Rights and Emily's List," Pardue said. "I offered free downloads of posters for the Women's March, and around that time the Femme Fists image went viral on Instagram and I received hundreds of requests for more [merchandise], to which I responded.
"In the months following I donated a total of $12,000 to the [organizations] mentioned and am donating another $5,000 before the end of this year — likely to an [organization] doing work in the areas of sexual assault and harassment."
Pardue became aware of ModCloth's shirt in October.
"In October, I began receiving [direct messages] from my Instagram followers showing screenshots of a T-shirt ModCloth ... was selling with my exact illustration on it," Pardue said. "They didn't even bother to change the colors. They've since ignored two letters from my lawyer. For All Womankind is a side hustle on top of my full-time job. I pack and ship orders nights and weekends and I take no profit. That said, I find it extremely frustrating when something pure and grassroots is co-opted and monetized by huge corporations."
Pardue noted that ModCloth did halt sales of the shirt in November, which a representative from ModCloth confirmed to Mic. "This top was manufactured by a third-party vendor," the spokesperson said. "As soon as we were made aware of the image, we removed the top from the site in November. It is no longer available at all."
Amid all this, Pardue's tweets, which she replicated on For All Womankind's Twitter account, continue to gain traction. "These huge companies are just assuming I can't afford to sue them, which I can't," Pardue said.
On Tuesday afternoon, after this story was first published, Pardue was contacted by ModCloth and assured that the company is escalating this matter to its legal team.
"We work closely with our vendors to ensure that they have the copyrights to the designs we are purchasing from them and have zero tolerance for intellectual property infringement," a ModCloth spokesperson said. "We are talking directly with Deva to address any issues she may have. We always want to support unique designs and local artists and will work to make things right, so we have asked if we can donate the profits from the sales of this T-shirt to a charity of Deva's choice."
Dec. 20, 2017, 3:33 p.m.: This post has been updated.