'Theft from the middle class': Democrats vow revenge against House Republicans over tax bill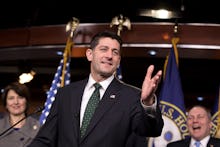 WASHINGTON — As Republicans maintain that the longer voters have to learn about their tax plan, the more they will like it, Democrats are prepared to debate for the next 10 months and campaign against the bill House Republicans passed on Tuesday.
The Tax Cuts and Jobs Act passed the House 227-203, with no Democrats supporting the bill. However, an overlooked technicality discovered by the Senate parliamentarian after the House voted means the GOP will have to pass the legislation through the House again on Wednesday, but it is expected to pass easily. The bill cleared the Senate shortly before 1 a.m. Wednesday morning.
The legislation, which House Speaker Paul Ryan said carries "no special favors, just basic fairness," has polled poorly for months. On Monday, a Monmouth University poll found only 26% of Americans support the bill.
House Minority Leader Nancy Pelosi (D-Calif.) said before the bill's passage that the tax plan is a "monumental, brazen theft from the middle class."
Assuming the bill passes the Senate, its expected that talking points from Democrats through the 2018 midterm elections will center on this bill. They expressed confidence Tuesday that Republican passage of their tax plan endangers the GOP House majority.
Rep. Tim Ryan (D-Ohio) said in an interview that it's critical Democrats lay the groundwork now to tie Republicans to unpopular parts of the tax plan. In a year, if wages have not risen and more Americans are not working, he said Republicans must pay at the ballot box for gutting government revenues for programs that aid the middle class, like Medicare and the Children's Health Insurance Program.
"I hope you enjoy that mass you're at for Christmas, because what you're doing goes against those very beliefs," he said of Republicans.
Democrats are already seeing political wins this year that are suggesting they will gain ground in the 2018 midterm elections. The Alabama Senate special election, and taking control of the Virginia House of Delegates, top the list. A recent NBC News/Wall Street Journal poll found Americans favor a Democrat-controlled Congress over the GOP by the largest margin since 2008.
After those Virginia victories, Democrats set their sights on flipping 91 House districts held by Republicans. Swing Left, a volunteer network launched this year to defeat Republicans in competitive House seats, is targeting 70 districts. "Make. Them. Pay," the group tweeted after House Republicans passed their bill — along with a fundraising appeal.
This tax bill, House Democrats said, will make it even easier to take on the GOP in tough 2018 races. At least one House Republican agrees.
"It's certainly going to make [2018] tougher," Rep. Peter King (R-N.Y.) said in an interview. "I'm confident. But people in their first and second term, it's harder for them."
King was one of 11 Republicans from California, New Jersey or New York to vote no on the tax legislation. The bill makes it more difficult for people to deduct their state and local income taxes, which targets blue states and cities nationwide.
Republicans hold 28 House seats in California, New Jersey and New York. If Republicans lose 24 House seats next year, they will lose their majority.
"It's going to make it a lot tougher in the Northeast," King said of Republicans running in 2018 House elections. "Hopefully we don't lose any seats, but it's going to be tough."
On Tuesday afternoon, protesters interrupted the House vote with chants of "Shame!" and "Kill the bill! Don't kill us!" One woman, in a wheelchair, chanted from the seats overlooking the House floor, "You starve Medicaid with this bill. You starve Medicare with this bill. You starve us all, Mr. Speaker, you starve us all."
That woman was escorted out and arrested. An organizer estimated 20 demonstrators were arrested for interrupting the House voting. Outside the U.S. Capitol, protesters held signs reading "We grieve for the harm done" as they yelled at congresspeople emerging after they cast their votes.
"You're welcome for lowering your taxes," a congressman, it was not clear who, said to Gael Murphy as she shouted "shame!" at him.
"A simple 'you're welcome' would suffice," he added.
"Yeah, fuck you. We'll be thanking you at the ballot box," Murphy said under her breath. She said in an interview that she'd arrived at the Capitol shortly before the tax vote to ensure Republicans heard her outrage about the legislation.
"We're going to see them having to cut social services," Murphy, a 63-year-old retiree from rural Castleton, Virginia, said. "That's scary. It's not who we are."
The legislation went from the House to the Senate, where Sen. Bernie Sanders (I-Vt.) has raised the alarm for weeks that the $1 trillion-plus tax cut will lead to slashing programs like Social Security, Medicare and food stamps.
Rep. Beto O'Rourke (D-Texas) has mounted a bid against Sen. Ted Cruz (R-Texas) in 2018. He said in an interview that he will tie Cruz to this tax legislation — which the Republican senator has not wavered in supporting — during the campaign next year.
"I love that this is on the ballot in 2018," O'Rourke said, "because Texans vote their interests and they know what's going on."