House Judiciary Committee will subpoena members of FBI and DOJ accused of anti-Trump bias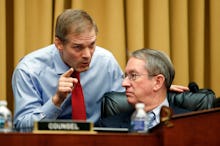 Rep. Jim Jordan (R-Ohio) said Tuesday that the House Judiciary Committee will demand testimony from members of the FBI and the Department of Justice that he has vocally accused of anti-Trump bias in recent weeks.
"Now it's time for subpoenas," Jordan said Tuesday in an interview on Fox Business Network.
According to Jordan, Rep. Bob Goodlatte (R-Va.), the chair of the House Judiciary Committee, is preparing to issue subpoenas in order to get Peter Strzok, Lisa Page, Andrew McCabe and Bruce Ohr to testify before the panel.
"We need those people to come in, be deposed, and then put them on the same stand that [Attorney General Jeff Sessions and Deputy Attorney General Rod Rosenstein] sat on just in the last few weeks," Jordan said.
The Ohio Republican has emerged as one of the most vocal critics of the FBI in recent weeks following revelations that Strzok, a high-ranking counterintelligence agent, had been kicked off special counsel Robert Mueller's Russia probe over the summer after he was found to have exchanged anti-Trump text messages with Page, a colleague with whom he was having an affair.
The messages also disparage figures on the left, but have nevertheless been used by President Donald Trump and his Republican allies in recent days to challenge the legitimacy of Mueller's probe.
Jordan directed an accusatory line of questioning against FBI Director Christopher Wray over the agent's texts, as well as his role in the investigation into Democrat Hillary Clinton's use of a private email server, earlier this month, suggesting that the bureau had been secretly working with Democrats to attack the president.
He also aggressively questioned Rosenstein this month, telling the Trump-appointed deputy attorney general last week that "the public trust in this whole thing is gone." Rosenstein told the panel that Mueller had taken appropriate action in reassigning Strzok and that there was no good reason to fire him.
But Republicans have continued to mount attacks on the special counsel that call to mind the tactics of "mob lawyers," former federal prosecutor Patrick Cotter told Mic last week.
"I see the 'attacks' on the Mueller investigation as political, not legal," Cotter said. "In that sense, I see them as illegitimate."
The growing criticism of Mueller from the right — which has even gone as far as to suggest the special counsel's probe is a "coup" against Trump — has led to speculation that Trump may attempt to terminate Mueller.
Trump, however, has denied those suggestions.
But that hasn't stopped Jordan and other Republicans from seemingly seeking to undermine trust in the special counsel.
During a weekend appearance on Jeanine Pirro's Fox News program — a favorite of Trump's — Jordan praised his host after she described the FBI as a "crime family" and said that Goodlatte would issue subpoenas.
He repeated that subpoenas are forthcoming during his Fox Business appearance Tuesday, saying that in addition to Strzok and Page, his panel would also demand testimony from Ohr — a DOJ figure with ties to the firm behind the infamous Steele dossier — and McCabe, the deputy FBI director who appears to have been mentioned in one of the most cryptic texts Strzok sent to Page in 2016.
"I want to believe the path you threw out for consideration in Andy's office —that there's no way he gets elected — but I'm afraid we can't take that risk," Strzok wrote. "It's like an insurance policy in the unlikely event you die before you're 40…"
Jordan has suggested this means FBI agents were conspiring to keep Trump from being elected.
But the Wall Street Journal seems to have debunked that narrative, reporting Monday that the "insurance policy" Strzok was referring to was the Russia investigation.
"The agent didn't intend to suggest a secret plan to harm the candidate but rather address a colleague who believed the Federal Bureau of Investigation could take its time because Democratic presidential nominee Hillary Clinton was certain to win the election," the Journal reported, citing people familiar with Strzok's account of the message.
Tensions have been rising between the administration and the Mueller probe since former national security adviser Michael Flynn pleaded guilty to lying to the FBI about his Russia contacts and admitted to cooperating with the special counsel at the beginning of the month.
Those tensions have played out in a pair of intense hearings with Wray and Rosenstein, where Republicans echoed Trump talking points about political bias against him and Democrats called for lawmakers to keep the president from dismissing Mueller.
"Let us protect the special counsel," Rep. Ted Deutch (D-Fla.) said during the Wray hearing.