These farmers are doing the impossible: growing fresh veggies in the coldest parts of the planet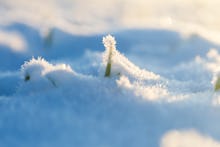 Halfway between mainland Norway and the North Pole, the islands of Svalbard are a palette of blue, white and brown — from the Arctic Ocean to glaciers, frozen sea ice and permafrost mountains. Upon first glance, it's not a destination that inspires much in the way of agriculture.
"This whole island is about extraction: whales, coal, animals, fish, gas, oil," said Benjamin Vidmar, founder of Polar Permaculture Solutions, a small crew of people who produce locally grown food in Longyearbyen on the archipelago's largest island of Spitsbergen. (Editor's note: The writer traveled to Svalbard with Visit Norway, who covered lodging and some transportation.)
The challenge of growing food in a region where the average temperatures are subfreezing and where there are nearly four months of polar night is no simple task. Even during midsummer, when temperatures hover around 40 degrees Fahrenheit, mountaintops are still draped with snow and vast glaciers sweep across the islands.
But Vidmar, a chef who has lived in Longyearbyen since 2007, discovered that there is a history of growing food on the island, and started growing microgreens in an insulated room to use at home and in some local restaurants. He also researched what others in Arctic regions were doing and learned about using red worms to produce a natural fertilizer from food waste (vermicomposting).
Vidmar's dream is to take it all outside and create a circular economy. "Everything here is based on taking things from the Earth. I feel like I have to do something for this town," he said. He pressured the local government to let him start growing plants in an outside dome, necessary because there are many laws in the archipelago against agriculture and ranch animals, instituted in the late 20th century.
In 2015, more than 300 tons of household waste was registered in Longyearbyen, equal to approximately 331 pounds per person. This number is nearly one-third of the amount for the country of Norway as a whole. In Longyearbyen, food waste from households is ground up and washed out to sea, and it's often not registered as waste.
Vidmar's microgreens are used in town on restaurant menus, and he composts unused produce with the worms, using their castings as a natural fertilizer that can help to grow more food. Vidmar has recently started to hatch quail from eggs, offering fresh, locally produced quail eggs to Longyearbyen restaurants. He's also introduced a market within Galleri Svalbard, which includes handmade items from fish-skin leather. Vidmar wants to expand his growing space, continuing to show how the Longyearbyen community can be more sustainable than its old habits are.
Another community within the Arctic Circle is Inuvik, a town in Canada's Northwest Territories. Converted from an old hockey arena 20 years ago, the Inuvik Community Greenhouse flourishes as a 16,000-square-foot garden that promotes community building through gardening, provides educational opportunities and reduces the cost of healthy food options.
While it began with 50 members, the greenhouse now has 250 members who use 149 community garden beds and 24 small beds. Members grow fruit, vegetables and even flowers. The community donates approximately 100 pounds of fresh vegetables to the local food bank each season, which runs from May through September, when the region gets 24 hours of sunlight.
The Inuvik Community Greenhouse also provides a convenient compost collection service in the greater community by charging a minimal fee ($5 CAD) to collect organic waste from homes on a regular basis. The effort helps reduce organic waste from the area, creates soil and supports the greenhouse projects.
In Kotzebue, Alaska, just 33 miles north of the Arctic Circle, conventional farming isn't possible. The Arctic Greens project, sponsored by the Alaska Native Kikiktagruk Inupiat Corporation (KIC), has been considered a game-changer for many of the communities in northern Alaska, where almost all produce originates from the Lower 48 by way of truck, barge or air cargo. By the time it's available on grocery shelves, it's already two to three weeks old.
The custom hydroponic farm containers allow remote communities to have a regular supply of fresh, affordable vegetables, grown without pesticides or other biological hazards.
The Arctic Greens project has been considered a game-changer for many of the communities in northern Alaska.
Arctic Greens plans to grow produce in 30 Alaska communities and sell the harvest in AC stores located in the same community, which will create jobs and ensure fresher and better-tasting produce no matter the season.
Back in Svalbard, Vidmar dreams of having more of his produce featured throughout Longyearbyen — in restaurants, hotels and even home kitchens. He's stepped up his site tours for locals and visitors who are interested in what he's doing, and he has also started to offer cooking classes. The next step on his list is to acquire a biodigester, which would be fed with the quail droppings as well as food waste in order to produce biogas, a mixture of different gases which are produced from raw materials like agricultural waste. That, in turn, would be used to heat the dome and produce electricity and fertilizer that would help grow more food. "We would like to connect people back to their food," he said in an email. "And helping people to live here more sustainably."