Nina Simone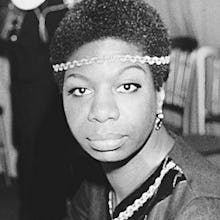 This article is a part of the Black Monuments Project, which imagines a world that celebrates Black heroes in 54 U.S. states and territories.
Nina Simone was a singer, musician and a freedom fighter during the civil rights movement.
Often called the "high priestess of soul," she was a black musical genius unafraid of tackling politics, but this meant her life was filled with difficulty. She risked her popularity at the height of her career for the liberation of the African diaspora. There weren't many spaces made for Simone, but she transformed every space she touched. She also inspired many musical artists, from Aretha Franklin to Lauryn Hill to Mary J. Blige.
Eunice Kathleen Waymon was born on Feb. 21, 1933, in Tryon, North Carolina, to parents Mary Kate Waymon and John Divine Waymon.
Simone taught herself to play the piano at the age of 3 and the organ by age 7, according to her website's biography and Rolling Stone. Both of her parents were preachers, so she began honing her talent in church. She also took lessons with Muriel Mazzanovich, an English woman who taught her classical compositions by Beethoven, Bach and Schubert. After graduating from high school as valedictorian, her community recognized her gift and pooled money to send her to the Juilliard School in New York. She ended up having to leave early because she did not have the money to continue paying for her education.
She set her sights on attending the Curtis Institute of Music in Philadelphia, but she was denied admission. She believed the school rejected her because she was black, according to her bio. Simone then took her talents to bars and clubs in Atlantic City, New Jersey, where she played jazz and blues music and began singing. During this time, she started going by the stage name "Nina Simone."
In 1958, Simone released her debut solo album Little Girl Blue. The project spawned her first hit, "I Loves You, Porgy," a cover of a song from the popular musical Porgy and Bess. It was a top 20 song on the U.S. Billboard Hot 100 chart.
She recorded more than 40 albums, fusing elements of pop, jazz and blues with her classical training. Although she was called the "high priestess of soul," she didn't believe the nickname fit her. "If I had to be called something, it should have been a folk singer because there was more folk and blues than jazz in my playing," she wrote in her autobiography, the New York Times reported.
As her career progressed, Simone began using her music to speak on the traumas black Americans were experiencing during the Jim Crow era. The assassination of Medgar Evers in Mississippi and the killing of four black girls in the 16th Street Baptist Church bombing in Birmingham, Alabama, resulted in the cathartic "Mississippi Goddam" in 1964.
"Lord have mercy on this land of mine/ We all gonna get it in due time/ I don't belong here/ I don't belong there/ I've even stopped believing in prayer," she sang.
Another socially conscious song she recorded was 1966's "Four Women," in which she sings from the point of view of four black women. After Martin Luther King Jr. was assassinated in 1968, Simone performed a song called "Why (The King of Love Is Dead)," according to Biography.com.
Between the 1970s and early 1980s, Simone left the United States due to race relations and lived in several countries, including Liberia, France and the Netherlands. She settled in Carry-le-Rouet, Bouches-du-Rhone, in France in 1993. By this time, she was divorced from husband and manager Andy Stroud, with whom she had their child, Lisa. The 2015 Netflix documentary What Happened, Miss Simone? showed that behind the scenes, Simone said she was abused and overworked by Stroud during their marriage. This experience also contributed to a decline in her mental health.
Simone recorded music less frequently in the '80s and '90s. Her final two albums, 1982's Fodder on My Wings and 1993's A Single Woman, were released more than a decade apart.
Simone died at the age of 70 at her home in Carry-le-Rouet on April 21, 2003. Many famous names paid their respects to Simone at her funeral, such as singers Patti LaBelle, Miriam Makeba and poet Sonia Sanchez. For using music to spread the message of black liberation and revolution, we honor Nina Simone today.