Appolition is collecting "spare change for freedom" and bailing black people out of jail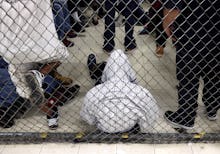 Yes, citizens should remain innocent until proven guilty, but the justice system blocks poor people from that right, especially black people, by assigning expensive bail. The right to be free while awaiting a court hearing or to be cleared of charges is increasingly becoming possible only for wealthier citizens, the Prison Policy Initiative reported in 2016.
There are more than 646,000 people being held in local jails every day across the country. Of those people, 70% are being held for pretrial detention. American taxpayers must foot billions to pay for jails holding these individuals behind bars, the Justice Policy Initiative reported.
Kortney Ziegler and Tiffany Mikell created Appolition to help change this. The app makes it easy to donate spare change to bail out those who need it most, without givers thinking much about it.
Ziegler says the idea for Appolition was inspired by the National Bail Out Campaign's mission to bail out black moms for Mother's Day and black dads for Father's Day. He wanted to build a pathway for people to help beyond holidays and special fundraisers.
"How can we elevate their work?" Ziegler asked himself about the bailout campaign. "And so, Appolition was born. I tweeted about it in July, and it got really significant engagement. Folks were like, 'I'd sign up.'"
Ziegler and Mikell launched Appolition in November and on average they are raising about $1,000 a day through the app. When a user signs up, they link their bank account and debit cards to the program. Appolition then automatically rounds your everyday purchases to the nearest dollar, and when that change amount reaches 50 cents, it is donated to the cause. The app can be accessed on a desktop computer and users can pause contributions when they want.
Funds go to the National Bail Out fund, a collective of organizations working to end mass incarceration for black people and to relieve individuals of the financial burden that comes with paying bail. The work that organizations like National Bail Out Fund and Appolition are doing is essential to demolishing racial disparities that persist in the population of pretrial detainees.
And as the price of bail continues to rise, it is becoming harder and harder to post bond. Between 1992 and 2006, bail amounts increased by more than $30,000, according to the Bureau of Justice Statistics. Of those incarcerated in the 75 most populated jails, at least half behind bars were assigned a bail of at least $10,000 in 2006. This creates an obstacle for the average person being held during pretrial detention: their median annual income is usually $15,109, the PPI reported.
Ziegler and his cofounder Mikell are proud to help the people most in need, as being detained for long periods can lead to a person losing their job, their children or housing. "We're excited that we can really center some of the most vulnerable individuals in our society and offer them support," he said.
Ziegler has a passion for social-justice-based work in the tech space. He is also the creator of Trans*H4CK, an organization dedicated to providing visibility and support for transgender and gender nonconforming people in the technology industry since 2013. He met Mikell in 2014 at a coding bootcamp in Chicago. Together they co-organized a Trans*H4CK event there. They continued working together, later cofounding Aerial Spaces, a live video tool for users to host engaging online events.
The duo teamed up again, from July to November, to develop Appolition. Their goal was to have at least 200 sign-ups by December. They exceeded it and Ziegler says they are approaching 6,000 sign-ups.
"To have Appolition focus on paying bail relief for black Americans and acquiring thousands of users — 6,000 users in a month, it's unheard of," Kortney said. "It sets a precedent, so we're super excited to kind of take advantage of this."
In the future, Ziegler and Mikell want to refine the technology, make it more engaging and continue building the Appolition community. They are also encouraging users to reach out to their credit unions not currently allowing donations, to approve the app's ability to automate charges.
Learn more about the Appolition app here.