7 pieces of legislation left in limbo before Christmas as Republicans advanced tax reform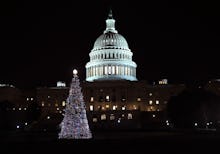 Welcome to Mic's daily read on Donald Trump's America. Want to receive this as a daily email in your inbox? Subscribe here.
Wednesday's dispatch: What's still waiting after tax reform
The Senate passed the Republican tax package shortly after midnight early Wednesday morning. Because of a technical error, including the use of the wrong title, the House will now have to pass the bill again. But the bill should soon head to President Donald Trump for his signature.
Republicans argue the bill will become more popular as Americans understand what's in it. But the latest NBC News/Wall Street Journal poll found the legislation has become more unpopular as the public learned more about it. Democrats are already vowing to tie Republicans to the bill's unpopularity in 2018.
Whether you believe the tax bill will be a political win for Republicans, the focus on passing it has put a host of other legislative items on hold. Here's a list of actions Congress either needs to take or is being pushed to take by the end of the year.
CHIP funding: The Children's Health Insurance Program expired in September. That has led states to use reserves to continue funding health insurance for about 9 million children. There is talk of renewing CHIP as part of a year-end deal to keep the government funded. That must be passed by Friday.
But in the meantime, states are beginning to run low on funds: Virginia and Connecticut said the program will end Jan. 31 without congressional action.
DACA: Trump ended the Deferred Action for Childhood Arrivals programs in September. Since then, DACA recipients — undocumented immigrants who were brought to the United States by their parents before they turned 18 — have been falling out of the program each day, facing the potential to be deported.
For weeks, activists have pushed Congress to protect these immigrants — which is highly popular, according to polling. But Republicans are not willing to address DACA this year, and key Democrats are backing down from their demand to take action in 2017. The program expires permanently in March, but activists and progressives are demanding action.
Health care bills: With the passage of tax reform, the Affordable Care Act will be further hobbled after years of attacks by Republicans. Ending the ACA's individual mandate will lead to 13 million people leaving the health insurance market over the next decade. This will bring higher premiums for those who still need to buy insurance through the ACA exchanges.
Two bills in the Senate would partially address this. One would send federal funds to private insurers to keep premiums lower, while another would protect those with pre-existing conditions. House Republicans say they won't support those bills, but senators are demanding it be passed this week. Welcome to gridlock.
Disaster funding: Congress began consideration of an $81 billion aid package earlier this week for California, Florida, Texas, Puerto Rico and the U.S. Virgin Islands. That's far less money than the governors of those states and territories have requested. But it does nearly double the amount of money the Trump administration initially requested.
Section 702: On Thursday, the House will attempt to pass a standalone bill to reauthorize Section 702 of the Foreign Intelligence Surveillance Act, legislation that would allow the U.S. continue to collect foreign intelligence in the U.S. The current proposal does not have privacy protections sought by Democrats and Republicans alike, which is hindering its passage.
Automatic cuts: The tax plan currently includes automatic cuts to Medicare and Medicaid. House Speaker Paul Ryan and Senate Majority Leader Mitch McConnell have promised that Congress will pass bills to ensure those cuts do not happen.
House Democrats said last week they will not vote with Republicans to avoid those cuts without passage of bills to stabilize the ACA. Senate Democrats are not likely to do the same, and they have more leverage because Republicans need Democratic votes in the Senate.
In sum: There is a lot Congress still has to do before its members head out for the holiday recess. And they're currently expected to further kick the can down the road to mid-January. So, expect more protests, uproar and, yes, near-record low congressional approval ratings.
And oh yeah, Congress must vote by Friday to keep the government open.
Today's question: Was passing tax reform and leaving the rest of this legislation on the table a bad move?
Please email us your thoughts at trumpsamerica@mic.com.
Wednesday in Trump's America:
Tax reform reaction: In an interview on NBC Wednesday morning, host Savannah Guthrie asked Ryan if he was "living in a fantasy world" in believing that the tax bill will lead to higher wages and growth. Ryan responded by referencing "surveys" that indicate that money will be reinvested in workers by businesses.
Obamacare: "The past year adds up to a slow, stealthy erosion of the law," writes Politico of how Republicans are nearing their goal of killing the ACA without a grand repeal bill.
Sen. John Cornyn (R-Texas) said Tuesday that ending the individual mandate made the ACA "unworkable" — which he hopes leads to a deal to change the law.
DACA: Senators and the White House say they're approaching a bipartisan deal on the Dream Act, legislation that would protect undocumented immigrants brought to the U.S. as children from deportation. It is unlikely to be rolled out this week, but it could be released in coming days and voted on in January.
Judges: The Washington Post reported Trump has three criteria for picking judicial nominees: toughness, youth and a strict conservative ideology. "He's not weak, is he?" Trump asks of judicial nominees — three of whom have been thrown out for being underqualified.
Elections: By one vote, Shelly Simonds defeated a Republican in her Virginia House of Delegates race to create a 50-50 tie between Democrats and Republicans in the chamber. Democrats flipped a total of 16 GOP seats in the November elections.
On Tuesday night, Democrats fell short in special legislation elections in Florida and Tennessee. In the latter, the Democrat lost by about 2.5 percentage points — in a suburban Nashville state Senate district that Trump won in 2016 by a 50-point margin, the Tennessee Democratic Party told Mic.
Russia: Mic's Eric Lutz wrote a deep dive into the language of Trump's national security address. Lutz found Trump watered down his rhetoric when it came to Russia, using much friendlier language than is written in a strategy released by the White House.
Abortion rights: Mic explores how doulas — women who volunteer to be a soothing presence for people undergoing abortions — have become the quiet foot soldiers of the reproductive rights movement.
Sexual harassment: The House secretly settled three sexual harassment cases between 2008 and 2012, worth $115,000.
Today's MicBite:
I grew up in the poorest county in Ohio. I went to school with people whose families relied on food stamps. The misconceptions about that community are many, as this woman explains to Mic in this video op-ed. She used to think people on food stamps the government" — until she became one of them.
Tap or click below to watch the video.