After her "yes" vote on the tax bill, what will happen to Susan Collins?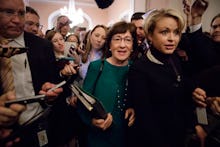 WASHINGTON — Sen. Susan Collins (R-Maine) made Mainers a simple promise when she cruised to victory in her 2014 bid for a fourth Senate term.
"I'm going to continue to represent common sense Maine values, not to score political points, but to see the common ground," the senator said in her victory speech after she won 67% of the vote — her largest-ever margin of victory in a Senate race during her 20+ years in office.
Now, after voting to advance the Republican tax plan early Wednesday morning, Collins, just like all GOP lawmakers, has to convince voters at home that a tax plan passed through Congress without a public hearing — and one only a quarter of her constituents wanted her to vote for — is, in fact, "common sense." Collins will also have to convince large organizations who supported her 2014 bid, including progressive groups and labor unions, that they can trust her after she voted for a major bill they opposed.
In a November poll by Hart Research Associates, Maine voters said by a nearly 3-to-1 margin that Collins should vote against the tax bill. According to the office of Sen. Angus King (I-Maine), calls from Maine residents to his office ran 50-to-1 against the tax bill.
A majority of voters in Maine's more conservative 2nd Congressional District, currently represented by Republican Rep. Bruce Poliquin and where Collins is from, said earlier in December that they oppose the GOP tax plan. And the more voters learned about the plan, Public Policy Polling found, the more they disliked it.
Maine residents have the highest median age in the country, making Mainers acutely concerned about Republicans' talk of reforming Medicare and Social Security in 2018 after the tax bill cuts federal revenues by $1.4 trillion over a decade, according to estimates from the Congressional Budget Office.
Collins is up for re-election to the Senate in 2020 and may struggle to win support of the same labor, progressive and environmental groups that backed her 2014 bid. She is key to the slim majority Republicans currently hold in the Senate — and after her vote for the tax plan, she's also a larger target for Democrats and those in Maine who say her vote against the will of a majority of the state's residents is a betrayal.
"[Her] brand was sold as 'moderate Republican, bipartisan, independent,'" Marie Smith of Mainers for Accountable Leadership, an activist group formed in 2017, said in an interview. "[Now] people are paying attention to every vote Collins takes. Loyal people, wanting to believe the best, are shifting. They will continue to shift."
Collins was backed over her Democratic challenger in 2014 by organizations like the Human Rights Campaign, which said the tax plan would "threaten programs critical to LGBTQ people," and the League of Conservation Voters, which said the tax bill opening up Alaska to oil drilling bankrolled "tax breaks for the ultra-rich."
When contacted by Mic, some organizations that endorsed Collins in 2014 expressed distress over her support of the GOP tax plan. None of them rescinded their endorsement, but these groups provided the liberal and centrist backing Collins has long aimed to attract as a senator who fashions herself as a bipartisan dealmaker.
"We're incredibly disappointed that Sen. Collins voted for this terrible tax package that includes provisions to drill in the iconic Arctic National Wildlife Refuge," Alyssa Roberts, national press secretary at the League of Conservation Voters, said in a statement.
Several labor unions — typically staunch supporters of Democrats — also backed Collins, who proved especially adept at winning support from unions with workers tied to defense contracts. Unions based at Maine shipyards have endorsed Collins because of her position on Senate committees that control federal funds spent on shipbuilding and sea power.
But those same labor unions oppose the GOP tax plan: The International Union of Painters and Allied Trades bashed the tax plan on Twitter, saying the "tax scam" will hurt IUPAT members. The union's New England chapter had endorsed Collins in 2014.
The International Federation of Professional and Technical Engineers also backed Collins in 2014. Matt Biggs, the union's legislative director, stopped short Wednesday of rescinding the IFPTE's support for Collins, but said his union was "obviously disappointed."
"Our union opposed the tax bill from the start, and we asked all lawmakers in the House and Senate to vote no on the bill, including Sen. Collins," Biggs said in a statement. "As you can imagine, we do not agree on every single vote or position, but we do have a longstanding, productive working relationship with her and look forward to continuing that."
On Tuesday afternoon, Collins defended her "yes" vote on the tax package by saying she won guarantees from Senate Majority Leader Mitch McConnell (R-Ky.) that he would push to pass bills to stabilize the Affordable Care Act and stop automatic cuts to Medicare by the end of the year.
By Wednesday, after the House again voted to pass the tax bill, Collins released a statement saying the health care stabilization bills would not be passed in 2017. But she reiterated that congressional leaders, namely House Speaker Paul Ryan (R-Wis.), promised the issue would be addressed in January.
Collins also called news coverage of her vote "unbelievably sexist."
"When I ran against Susan Collins, she won statewide decisively," Shenna Bellows, the Democratic state senator in Maine who took on Collins in the 2014 Senate race, said in an interview. "She has been an ardent defender of the process and the product. I never imagined she would sign off on a [tax] bill that had no public hearings, that had handwritten notes in the margin and [a provision that's] essentially a bribe to a senator.
"I didn't fathom that," she added.
Bellows said Collins drew support from many Democrats and a majority of Independents, along with most Republicans, in 2014 because of her "brand" as a moderate lawmaker who is responsive to Maine's 1.3 million residents. It was difficult to campaign against her, Bellows said, because "people trusted her to put her state before party."
"I think this vote damages her brand," Bellows said. "The level of grassroots activism and anger [now] is much deeper than anything we observed prior to her [2014] race."
Maine has a legacy of senators who pride themselves on being responsive to voters. Former Sen. Edmund Muskie (D-Maine) represented the state for 21 years and was key in building consensus to pass the Civil Rights Act of 1964 and the Clean Water Act of 1972.
Former Sens. William Cohen and George Mitchell continued a bipartisan approach for nearly two decades apiece. Mitchell, former special envoy for both Northern Ireland and Middle East Peace, now works with the Bipartisan Policy Center. Cohen, a Republican, served as secretary of defense under former President Bill Clinton from 1997 to 2001.
Former Republican Sen. Olympia Snowe, who is now on the Bipartisan Policy Center's board, represented Maine from 1995 to 2013 and was considered a leading centrist in Washington.
In Maine, activists have staged protests for months outside Collins' offices — but they've also sought to sit down with her, they told Mic. These activists said Collins often accepts those requests, including a meeting with the senator before the tax vote in Washington.
Constituents first pushed Collins throughout 2017 to oppose GOP efforts to outright repeal the ACA (she did) before urging her to reject the tax plan and its repeal of the ACA's individual mandate (she did not).
Collins' high-profile promises to protect the ACA, despite voting to repeal the law's individual mandate as part of the tax bill, are geared toward showing Mainers she will protect expanded health care. In November, the state voted to expand Medicaid to 89,000 residents, making it the country's first to pass Medicaid expansion both during the Trump administration and via a ballot initiative.
A Public Policy Polling survey in August found strong support for Collins immediately following the first failed attempt to repeal the ACA at the end of July. Holding support among Democratic and Independent voters will be key for Collins, as her approval among Republicans in Maine began cratering in late summer — and that may be more difficult after her tax vote.
"Any elected official who votes to pass this tax bill is voting for a bait-and-switch that will rip health care away from millions of Americans," Kaylie Hanson Long, NARAL Pro-Choice America's national communications director, said in a statement.
Long, whose organization has given Collins among its highest positive voting records for a congressional Republican, said the GOP tax plan was anathema to NARAL's values.
Collins may not appear on the ballot again until 2020, but organizers in Maine believe her vote Wednesday will be at the forefront of the 2018 midterms.
With the strong margin in November favoring Medicaid expansion, health care will likely be a top issue in 2018. Activists in Maine said they're gathering signatures to vote in 2018 on guaranteeing statewide home care, another draw for voters concerned about the matter.
Meanwhile, a network of grassroots groups across Maine are taking aim at Poliquin, Maine's Republican congressman, in his 2018 re-election bid. Like Collins, Poliquin also voted in support of the GOP tax plan. At least a dozen candidates are running for governor in 2018, with Democrats hoping to retake the statehouse after seven years of Gov. Paul LePage, a conservative Trump fan who has vowed to block Medicaid expansion.
"Anyone who wants to run for the U.S. Senate in 2020 on the platform that these tax cuts are good for the state of Maine is gonna have a really hard time," Will Ikard, director of the Maine Small Business Coalition, said in an interview. His coalition of 3,500 businesses spearheaded the Medicaid expansion campaign and is working on the homecare initiative for 2018.
"In 2018, we're focusing on Bruce Poliquin," Ikard said. "That's the way we're going to most of all hold him accountable for his vote, but also show Sen. Collins and people like her that there are real consequences for voting to sell out the people of Maine."