It's time to get hip to Claire Foy or die trying: In appreciation of a true style queen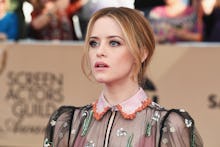 It's only fair that the queen is played by a queen. Maybe we should clarify. It's only fair that Queen Elizabeth II is played by an equally real and true queen, also known as Claire Foy, on Netflix's The Crown.
She may not be of royal descent, but whether you realize this or not, Foy, we believe, has earned her queen status thanks to absolute powerhouse acting skills that are wholly flexed in her performance on The Crown — which involves Foy literally using her breathing as part of her acting — and also because her style in real life rules.
Foy is an icon. She is iconic. It's time to get hip to Claire Foy or die trying.
Let's analyze, shall we?
To first focus on her most recent press tour in particular, which had Foy talking all about The Crown's second season (which rules, if you haven't seen it), Foy never had a fashion misstep.
We're talking everything from just chatting to journalists to daytime talk shows to late-night talk shows, Foy looked absolutely amazing at every turn.
Here she is in a cute little Gucci tweed minidress on Today.
Here she is in a spicy little red jumpsuit on The Late Show With Stephen Colbert.
Here she is generously talking to Jimmy Fallon in a cute little outfit from Miu Miu with random embellishments.
Here she is with Andy Cohen in a slick black satin suit.
Everything she wears is something we want to wear. Everything she wears makes our heart sing. Beyond just that, Foy is incredibly charming and funny and smart in every interview she does. She's simply a joy.
If your heart is still cold and you remain unconvinced, please do look at her red carpet appearances, that have been legendary thanks in part to her stylist Nicky Yates.
Like look at this damn ensemble from The Crown's London premiere. Foy in a super-sparkly sleeveless dress with her favorite thing in the world — a collar with personality.
It's Dior. We stan.
At the BAFTA Los Angeles Britannia Awards (whatever those are) in October she wore this really strange and wonderful dress from Erdem that had feathers popping out of it.
Helena Bonham Carter, who?
It's just that, similarly to Ruth Negga, everything Foy wears has a personality. Everything she wears makes you want to know more about her.
Like, excuse me, who is this woman in this Gucci dress murdering everyone else on the London Film Festival red carpet?
Who is this woman who had the guts to wear a one-sleeved Oscar de la Renta jumpsuit to the Emmys?
Who is this woman who 100% did not care about the theme and instead wore a full-on pastel floral Erdem gown to the 2017 Met Gala because why not?
It's Foy. It's always Foy.
Look at her at the SAG Awards, which exist for no real reason except for us to see more Foy, showing up in a divine, sheer Valentino dress.
Not to scream or anything but: Look at her at the Golden Globes in pink sparkly Erdem!!!!!!
Some other honorable mentions we'd love to gush over if you'll indulge us is this blue dress with ruffles by Thierry Mugler from a premiere of her film Breathe with Andrew Garfield.
This darling white dress with polka dot detailing from Ulyana Sergeenko that she wore to a Breathe screening.
And this modern, Katharine Hepburn-inspired look at a Breathe screening at the London Film Festival that, we don't know, we're just kind of obsessed with.
The colors and everything are just so sharp.
It's time to stop sleeping on Claire Foy and appreciate her as the wonderfully fun style icon she really is.
Claire Foy will never serve you a boring black dress, unlike some people in Hollywood who lack good judgment about more things than just style (cough Kate Winslet cough), because she respects us too much.
From now on, you should consider Claire Foy in the red carpet echelon that includes Nicole Kidman, Ruth Negga, Lupita Nyong'o, Rami Malek and others, who don't have the capacity to ever disappoint.
It's time to stan. Now what should we call ourselves? The Foy Fanatics?