White House reportedly mulling hiring senior political adviser to focus Trump messaging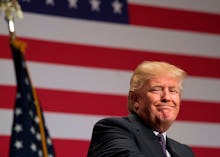 Seeking to improve the public's overwhelmingly negative image of President Donald Trump ahead of the 2018 midterm elections, the White House is considering bringing on a new, experienced political adviser, Reuters reported Wednesday.
According to the report, advisers have recently discussed adding a figure akin to former President Barack Obama's adviser David Axelrod or former President George W. Bush's adviser Karl Rove, someone "steeped in politics" who can bring "greater discipline" to the president's messaging.
"There are definitely moments that we'd all like to see stop," a top aide told the publication. "Some of the early morning stuff has not been helpful over the last few weeks."
Administration trying to improve image going into 2018
Those in Trump's orbit have long sought to contain him, but there may be more urgency to do so with voters heading to the ballot box in less than a year.
More than a quarter of Senate seats and all House seats are up for grabs in 2018, and recent upset victories by Democrats have been seen as a potential harbinger of a coming Democratic wave.
A suddenly blue Congress could spell trouble for Trump's agenda and possibly his presidency, considering the ongoing and aggressive Russia investigation and impeachment already on the lips of some Democrats.
As such, the administration hopes to polish Trump's image among voters, with whom he has just a 32% approval rating as well as weakening support from his base, according to recent polls.
To do that, according to Reuters, aides want to keep the president from his abusive tweeting and are considering hiring a more politically savvy adviser.
He has apparently acted as something of a strategist unto himself in following the departures this summer of Steve Bannon and Reince Priebus, with whom the president reportedly had over for lunch in the West Wing on Tuesday.
But bringing such an adviser could be easier said than done.
The administration has had difficulties bringing on more traditional Beltway figures and Trump has proven himself to be resistant to change, continuing to draw blowback for his outbursts and consulting with outside advisers despite Chief of Staff John Kelly's efforts to bring discipline to the White House.
Still, aides told Reuters they hope the president's image will ameliorate as he closes out the year with a win on tax reform — the first major legislative victory of his presidency.
But even that victory seems an unreliable hook to hang their hopes on, as the legislation remains controversial in the eyes of Americans. According to recent polls, voters are at best split on the bill and at worst actively oppose it.
Trump, however, has maintained the "results will speak for themselves, starting very soon."
"Our team will go onto many more VICTORIES!" Trump tweeted Wednesday after the House passed the tax bill.