Comedy Central cancels TJ Miller's 'The Gorburger Show' after assault allegations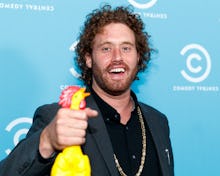 Comedy Central has canceled the series The Gorburger Show, the Hollywood Reporter reported Tuesday — the same day the show's star, T.J. Miller, was publicly accused of sexual assault.
According to the Hollywood Reporter, a representative for the network said the decision to cancel Miller's show after its first season had been made before news of the allegations broke Tuesday.
A former girlfriend of Miller's, who chose to remain anonymous, told the Daily Beast that Miller sexually assaulted her while he was a student at George Washington University and she was taking classes there.
She said that during their romantic relationship he violently assaulted her, choked her and penetrated her with an object without her consent, according to the Daily Beast. Miller's accuser said she went to campus police nearly a year after and a "student court" handled the allegations.
In a joint statement shared with the Daily Beast and posted on Twitter, Miller and his wife, Kate, denied the allegations and said the accuser was capitalizing on the "current climate" to "launch these false accusations again."
As the Daily Beast reported, Miller's "star is increasingly rising in Hollywood." He has appeared in Deadpool, Office Christmas Party and The Emoji Movie and is scheduled to appear in the upcoming action film Ready Player One, How to Train Your Dragon 3, the Deadpool sequel and Underwater starring Kristen Stewart.
As the entertainment industry reckons with an ongoing avalanche of accusations of sexual assault and misconduct against leading men, some actors have exited projects even when they have starring roles, as with Jeffrey Tambor's possible departure from Transparent, or, in the case of Kevin Spacey's role in an upcoming Ridley Scott film, being replaced with another actor entirely.