A new helpline in the UK is anonymously assisting models in reporting sexual harassment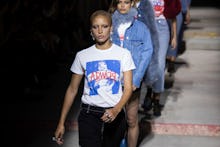 In light of the allegations that have come out against esteemed photographers Terry Richardson and Bruce Weber and the trending hashtag #MyJobShouldNotIncludeAbuse, which allowed people in the fashion industry to speak out about the sexual harassment they've faced, it's clear that fashion needs to have the same conversation Hollywood is having when it comes to sexual misconduct in the workplace.
Over in the United Kingdom, they've found an interesting way to combat this issue: The British Fashion Council and the new model-focused organization British Fashion Model Agents Association have come together for a "Models First Initiative" that hopes to improve how models are treated and offer them a hotline and email address that they can use to report any concerning behavior they see or experience.
"[The BFMAA] understood the need to develop an independent committee that will challenge agencies, as well as industry norms to ensure that models are treated with the same respect and care as all employees in the industry," Caroline Rush, CEO of the British Fashion Council, said in a release. "The stories highlighted through #MeToo has meant that there is no better time for the industry to work together to stamp out any form of maltreatment or abuse."
According to the Evening Standard, the helpline, which is 020 7759 1996, and email address, models@britishfashioncouncil.com, will be staffed during working hours. During London Fashion Week in February, calls will be accepted in the evenings and during the weekends as well.
If any models experience illegal behavior, they'll be told to contact the police.
This is the first time models in the U.K. have had this kind of service independent from the agencies themselves, and sets a new standard that maybe the United States will follow.
Mic has reached out to the British Fashion Council and British Fashion Model Agents Association for comment.