E! News host leaves after learning male cohost earned twice as much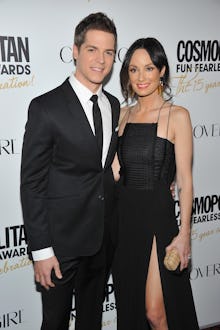 Longtime E! News co-anchor Catt Sadler said Wednesday that she left the network after learning her male co-anchor, Jason Kennedy, was making "double" her salary.
Sadler, who anchored E! News for nearly 12 years and had recently begun hosting a two-hour daytime program, Daily Pop, said E! refused to pay her as much as Kennedy after she found out how much he was earning.
Sadler first announced she was leaving E! on Tuesday.
"When E! reached out to renew and extend my deal, I learned that [Kennedy] wasn't just making a little more than I was," Sadler wrote in a blog post explaining her decision to leave. "In fact, he was making close to double my salary for the past several years."
Sadler wrote that "an executive from E!" first told her about the "massive disparity in pay" between herself and Kennedy.
"I have two decades' experience in broadcasting and started at the network the very same year as my close friend and colleague that I adore," Sadler wrote, referring to Kennedy. "I so lovingly refer to him as my 'TV husband' and I mean it. But how can I operate with integrity and stay on at E! if they're not willing to pay me the same as him? Or at least come close?"
E! News did not immediately respond to Mic's request for comment. In a statement to People, a spokesperson for the channel said E! "compensates employees fairly and appropriately based on their roles, regardless of gender."
In an interview with People, Sadler said the decision from E! was "almost insulting."
"I've given my all to this network," Sadler said. "I've sacrificed time away from my family and I have dedicated my entire career to this network. And when you learn something like that, it makes you feel very small and underappreciated and undervalued. It's heartbreaking."
Sadler's departure highlights the continued problem of wage inequity in television journalism.
In July, the British government forced BBC to reveal the salary ranges of its highest earners. The documents showed that some male BBC employees made substantially more than women in comparable positions. Further, two-thirds of the BBC personalities who made the biggest salaries were men, according to the Associated Press. The information prompted women journalists at the BBC to demand in an open letter that the broadcaster's gender pay gap be immediately closed.
Gender-based pay gaps have also been noted at other journalism companies like Dow Jones. The problem is widespread and has been recorded across various industries.
Most experts, according to Poynter, have said transparency about compensation rates is the best solution to gender-based pay discrepancies.