59% of American women believe Trump should resign over sexual misconduct allegations, poll shows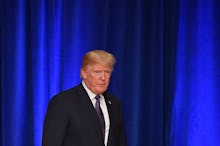 A new Quinnipiac University poll found that half of American voters believe President Donald Trump should resign over the sexual misconduct allegations against him. Among women voters, the number is even higher: 59% said they believed Trump should resign.
More than a dozen women have gone on record to accuse Trump of sexual misconduct, including People journalist Natasha Stoynoff, who described a 2005 encounter with Trump in which she said he pushed her against a wall and kissed her without her consent; and former The Apprentice contestant Summer Zervos, who alleged Trump kissed her multiple times without consent in 2007 when she reached out to him to discuss working for the Trump Organization.
In December, three of the women who have accused Trump of sexual harassment and assault — Samantha Holvey, Jessica Leeds and Rachel Crooks — held a press conference calling for a bipartisan investigation into Trump.
Several lawmakers have called for Trump's resignation over the accusations, including Sen. Kirsten Gillibrand (D-N.Y.), who told CNN the women's stories were "very credible allegations of misconduct and criminal activity, and [Trump] should be fully investigated and he should resign."
Trump himself has dismissed the allegations as false, telling reporters: "All I can say is it's totally fake news. It's just fake. It's fake. It's made-up stuff, and it's disgraceful what happens, but that happens in the — that happens in the world of politics," according to the Washington Post.