Zendaya is the 2017 'Mic' style star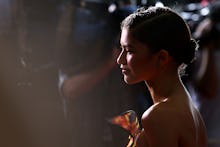 There was one woman this year whose style went from great to spectacular: It's Zendaya. She turned out sharp outfits on red carpets, like that white Vivienne Westwood dress she wore with dreadlocks to the 2015 Oscars, and versatile, unexpected street style that we saw was reminiscent of Rihanna.
But this year, without question, was her Cinderella style moment. 2017 was the year that Zendaya went from style star to style icon, which is a status we feel never expires. Cheers to you, Zendaya's stylist Law Roach.
The best way to appreciate Zendaya's this year is really honestly a retrospective, so let's take it month by month starting in March, which is when this whole fashion extravaganza really took off.
March
A gold slip dress to the Kids' Choice Awards
To an event that can bring out, like, colored camouflage and cargo shorts, Zendaya turned it all the way out.
To the Nickelodeon Kids' Choice Awards, she opted for a gold satin slip dress from her own collection Daya by Zendaya, a bold green suede heeled boot and an elegant diamond choker. Z showed us that she was not messing around this year.
May
A piece of art to the 2017 Met Gala
So, this is when we knew she was ready to become a style icon. At the 2017 Met Gala, which had a theme surrounding the brand Comme des Garçons, she wore a massive gown by Dolce & Gabbana that looked like an oil painting, with bright oranges and reds and blues.
To top it all off, she wore an afro, and the kind of makeup we only dream of achieving, with a bright orange lip and blush that made her look otherworldly.
A perfect little jumpsuit to a Met Gala afterparty
While we would normally consider an "after-party look" to involve sweatpants, slippers and a goblet of wine, Zendaya's the night of the Met Gala was a floral jumpsuit by Dolce & Gabbana and diamond-laden Louboutin stilettos.
Here she is with her stylist Law Roach, who styles Celine Dion too, so you know he's the shit.
A green dream to the MTV Movie Awards
Less than a week later, Z was at it again, showing up to the MTV Movie & TV Awards in a dream of a green Zuhair Murad dress that made her look like a 1930s movie star.
The makeup, yet again, was glowy and perfect.
June
A black dress with pearls to the Butterfly Ball
Looking like if Josephine Baker was born in 1996, Zendaya showed up to the Chrysalis Butterfly Ball in a slinky black number with a pearl neckline by Mario Dice. Elegance personified.
A sweet little dress to a Spider-Man press event in Madrid
This is how Zendaya showed up to the first formal press event for her role in Spider-Man: Homecoming: with a sky-blue, ruffled, spaghetti strap dress by Jonathan Simkhai, with heels from Rihanna's Manolo Blahnik collection to match.
A tropical ensemble to a Spider-Man event in Barcelona
This one is just fun, isn't it? The tropical outfit, which really does have flamingos along the neckline, is from Delpozo.
A different vibe for a Tonight Show appearance
Taking on a new style vibe entirely, Zendaya showed up to the Tonight Show Starring Jimmy Fallon in a loose, draped sort of sea green outfit from Sies Marjan.
Then there was a little bit of Zendaya punch with crystal-studded Louboutins.
A spin on Barbie pink to the Spider-Man premiere
This is how you dress to a premiere. To the Spider-Man: Homecoming premiere, Zendaya came to looking like a 21st century, actually cool version of Barbie, in a dress from Ralph and Russo.
July
The Vogue cover
This is what she deserved. After stunning at the Met Gala, Zendaya got her first cover of Vogue in July, wearing a feathery Calvin Klein dress. The inside pictures were great too.
Street style to lust over
July was jam-packed with street style looks for Zendaya. She attended more low-profile events chronicled on her stylist's Instagram.
August
The best pantsuit that's ever lived
We've been open about our obsession with this look ever since she wore it.
To Variety's Power of Young Hollywood event, Zendaya rocked this super-amazing Vivetta suit that is ombre pink and covered in sparkles. Need we say more?
Sparkly sleepwear at the Teen Choice Awards
Who wouldn't want to get away with wearing pajamas to an awards show? To the Teen Choice Awards, Zendaya wore a sparkly set of menswear-looking pajamas from Ashish that absolutely ruled.
September
Siriano to the Women Making History Awards
Serving us sparkles yet again, Z wore this Christian Siriano pantsuit with cutouts along the bodice to the Women Making History Awards.
October
An extremely good pink pantsuit (again) for Good Morning America
Here is Zendaya giving us exactly what we want yet again. Zendaya wore this light pink tuxedo by Dundas to Good Morning America in October.
'50s glam to an H&M runway show
You ever see a bouffant look this good? To a H&M and Erdem fashion show, Zendaya cosplayed a '50s housewife — from the hair to the eyeliner to the A-line floral skirt.
The '50s strike again at the GLSEN Awards
Zendaya did Calvin Klein very right with this look, with its modern take on '50s flair. Just check out those fuchsia shoes.
A 'fro to end all 'fros
Hello, yes? We'd like to report a murder.
To the InStyle Awards, which we had no idea existed until this moment, Zendaya wore a ruffle Schiaparelli dress and the most glorious afro we've ever seen.
Very Vuitton at Louis Vuitton
Looking every bit a French ingenue, Zendaya wore head-to-toe Louis Vuitton here, to a Vuitton exhibition opening in NYC.
November
A pink pantsuit (a third time)
Zendaya just gets it. For the third time this year, Zenday wore a pink pantsuit (this time it's more like a jumpsuit, but whatever). the event was Glamour's 2017 Women of the Year awards, and the suit was by Viktor and Rolf.
Blessed.
December
A horse dress (no, really) at the British Fashion Awards
If any person can pull off this dress, it's Zendaya. At the British Fashion Awards, she wore this black velvet dress with star appliqué and horse head silhouettes along the bust line by Vivetta.
A ballgown fit for a queen
This is how you wear a ballgown. To the world premiere of The Greatest Showman. Zendaya stayed on-theme with a black and red tulle ballgown by Viktor and Rolf.
A butterfly dress to another premiere
This is like Zendaya's pièce de résistance of 2017. To the Australian premiere of The Greatest Showman, Z showed up as a literal butterfly, in a dress by Moschino that made her appear as if she was wrapped in a monarch's wings.
Considering all the looks above, can you name a single woman better dressed than Zendaya this year? We think not.