Senator urges Congress to protect Mueller probe from Trump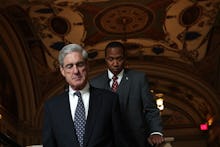 Sen. Mark Warner (D-Va.) demanded that his colleagues protect Robert Mueller, saying in a speech on the Senate floor Wednesday evening that he feared President Donald Trump was preparing to fire the special counsel leading the FBI's Russia probe.
"Congress must make clear to the president that firing the special counsel or interfering with his investigation by issuing pardons of essential witnesses is unacceptable and would have immediate and significant consequences," Warner said Wednesday. "It is critical that all of us, as elected officials and citizens, speak up against these threats now before it's too late."
The special counsel has increasingly become a punching bag for Trump and Republicans, who have accused him of leading a biased, politically-motivated witch hunt against the president.
Rep. Jackie Speier (D-Calif.) said earlier in December that there is a rumor circulating Capitol Hill that Trump may try to get rid of Mueller during the Christmas holiday, but the president has denied any such plans.
But, Warner said Wednesday, the firing of former FBI director James Comey had come as a surprise, too.
"The president's track record on this front is a source of concern," the Democrat said.
Mueller was appointed to lead the FBI's probe into Russia's interference in the 2016 election, as well as possible collusion between the Trump campaign and the Kremlin, after Trump fired Comey in May.
Mueller has indicted the president's former campaign chairman, Paul Manafort, and his associate, Rick Gates as part of his investigation. He has also secured guilty pleas from former campaign foreign policy adviser George Papadopoulos and former national security adviser Michael Flynn, who acknowledged earlier in December that he is cooperating with the special counsel's office.
But he has been hammered by Trump and the Republicans in recent weeks after it was revealed that he had kicked a counterintelligence agent off of his team over the summer over anti-Trump texts he'd sent to a colleague.
While Republicans have pointed to Peter Strzok's text messages as proof the bureau is biased against Trump, Warner said the fact that Mueller booted him from the investigation is a testament to his "professionalism" and impartiality.
"If anything, this incident only adds to Mr. Mueller's credibility as a fair and independent investigator," Warner said.
Warner warns that Trump could trigger "constitutional crisis"
Warner — the top Democrat on the Senate Intelligence Committee, which is conducting one of three congressional Russia investigations — said in his speech Wednesday that his investigators had made "tremendous progress."
But, he said, his panel's probe does not have the same power as that of Mueller's.
"I'm committed to seeing this effort through," Warner said. "However, it should be very clear that our committee cannot and will not stand as a substitute for Mr. Mueller's investigation."
He slammed as "reckless" the Republican critics of the special counsel — some of whom, he noted, initially praised the choice of Mueller to lead the investigation — and said the "coordinated nature" of the criticisms leveled against the investigation by both the president and some members of Congress "should alarm us all."
"Firing Mr. Mueller or any other of the top brass involved in this investigation would not only call into question this administration's commitment to the truth, but also to our most basic concept: rule of law," Warner said. "It also has the potential to provoke a constitutional crisis. In the United States of America, no one — no one — is above the law. Not even the president."