'New York Times' reporter Glenn Thrush, suspended over harassment claims, will return to paper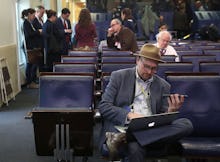 The New York Times' Glenn Thrush, a star political reporter who was suspended in November following allegations from women journalists that he behaved inappropriately toward them, will return to the newspaper in late January.
Executive editor Dean Baquet said Wednesday that Thrush will no longer cover the White House. It's unclear which desk Thrush will join when he returns to the Times.
"While we believe that Glenn has acted offensively, we have decided that he does not deserve to be fired," Baquet said in a statement. "Instead, we have suspended him for two months and removed him from the White House beat. He will receive training designed to improve his workplace conduct. In addition, Glenn is undergoing counseling and substance abuse rehabilitation on his own. We will reinstate him as a reporter on a new beat upon his return."
The news of Thrush's fate was first reported by Times media reporter Sydney Ember.
Thrush, like several other prominent men in journalism over the past several months, faced allegations he had sexually harassed women. A November article in Vox alleged Thrush had made unwanted advances toward young women reporters while he was an employee at Politico, where he worked until January. Four women, including the article's author, Laura McGann, alleged "a range of similar experiences" with Thrush, from "unwanted groping and kissing to wet kisses out of nowhere to hazy sexual encounters that played out under the influence of alcohol."
The Times launched an investigation into Thrush's conduct upon learning Vox planned to run the article, according to Ember. Baquet said the investigation, which was detailed in a Vanity Fair report Thursday, included "dozens of interviews" with individuals both inside and outside the Times newsroom.
"We understand that our colleagues and the public at large are grappling with what constitutes sexually offensive behavior in the workplace and what consequences are appropriate," Baquet said. "It is an important debate with far-reaching consequences that we helped spark with our journalism and that we've been reflecting on internally as well. Each case has to be evaluated based on individual circumstances. We believe this is an appropriate response to Glenn's situation."
Thrush was also a contributor to the cable network MSNBC until his suspension in November. A spokesperson for MSNBC declined to comment about whether Thrush would reappear on the air as a contributor following his return to the Times.
It's also unclear what will become of an upcoming book Thrush is cowriting with the Times' Maggie Haberman. Random House, which had secured the rights for the book, said in November that it was looking at the situation "closely and seriously" before deciding how to proceed.