Polling and history point to a historic Democratic wave coming in the 2018 midterm elections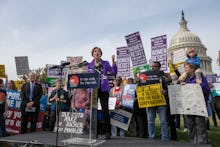 Welcome to Mic's daily read on Donald Trump's America. Want to receive this as a daily email in your inbox? Subscribe here.
Thursday's dispatch: All signs point to a 2018 Democratic wave
There are still more than 10 months until the midterm elections. With that caveat: Democrats are positioned to make gains in the House, defend several competitive Senate seats and win state level races nationwide.
When Republicans celebrated passage of their tax plan on Wednesday, Sen. Mitch McConnell (R-Ky.) said, "This has been an extraordinary year of accomplishment for the Trump administration." The tax plan capped of a year of championing deregulation, attacking the Affordable Care Act, appointing conservative judges, restricting immigration to the U.S. and taking a harder line with global partners.
That legacy has earned Trump and Republicans historically low polling numbers heading into 2018.
In the first midterm election for all but two presidents going back to 1946, the president's party has lost U.S. House seats. Up until President Barack Obama, presidents with an approval rating above 50% at the time of the election lost an average of 14 House seats. Presidents with an approval rating below 50% lost an average of 36 House seats.
Obama's approval rating was around 43% in 2010 when Republicans gained 63 House seats, the largest change in a midterm election since 1938. And Republicans won 721 state legislative seats in the 2010 election cycle.
Compare the 2010 wave to the polling we see today. Six surveys from this month show voters prefer a Democrat over Republican congress by double digits. In a new CNN poll, 56% of voters say they favor a Democrat in their district to 38% who favor a Republican. That 18-point gap is the largest CNN has seen in 20 years.
The latest polling puts Trump's approval rating around 37%, according to FiveThirtyEight. It has sat under 40% since May. Both Sabato's Crystal Ball and Cook Political Report, which have a strong history of accurately predicting congressional elections, show Democrats have the potential to gain at least 20 seats.
A poll released Thursday found backing from Trump, and congressional leaders made voters, on net, less likely to vote for Republican candidates — another poor omen for 2018.
2017 has brought other positive signs for Democrats. Out of 17 special legislative elections where a seat flipped party control, Democrats won 14 of those races. That included victories in districts from Florida to Oklahoma, two states where Trump won decisively.
Exit polling from the Alabama special Senate election found voters evenly approve and disapprove of Trump — in a state he won by nearly 30 points in 2016.
Matched with a congressional approval rating at a dismal 15% average — lower than where it was when Democrats lost the House in 2010 — Republicans have to prepare for an ugly 2018.
But the GOP has built in some protections to their majority since 2010. An Associated Press analysis found gerrymandering has given Republicans 22 more House seats than they should hold. In 2016, Republican congressional candidates won 1% more votes than Democrats — but hold 10% more House seats.
Democrats will need a surge of more than 1% nationwide to overcome that GOP advantage. And the wide Republican lead, along with the fact Democrats must defend incumbent senators in 10 states Trump won, means there is no guarantee a wave means they will take back the House, Senate or state legislatures.
But less than a year out from the elections, Republicans are touting a tax plan that draws support from only a quarter of Americans as their key accomplishment.
Today's question: Do you think Democrats will win big in 2018?
Please email us at trumpsamerica@mic.com with your thoughts.
Thursday in Trump's America:
Tax reform: Trump will wait until early January to sign the Republican tax plan in order to avoid a vote on stopping automatic cuts to Medicare and Social Security this week. By signing the bill in 2018, Trump will give Congress longer to address those automatic cuts — loathed by senators but demanded by some House conservatives.
Large companies said they will give thousands of employees bonuses and raise minimum wages after the passage of the GOP tax plan. Countering that pro-tax reform narrative, Democrats said companies have promised more than $87 billion in stock buybacks to enrich investors since the Senate first passed the tax bill.
Sen. Susan Collins, a moderate Republican, faces blowback in Maine for her "yes" vote on tax reform. We explored how that vote is being received in her state. Also, Collins said Wednesday that health care fixes she demanded in exchange for her vote on tax reform would not be addressed this year.
Shutdown watch: House Republican leaders hope to pass a bill Thursday that will keep the government open until mid-January, fund the Children's Health Insurance Program through March and send $81 billion in disaster relief to states and territories.
Conservatives are mad that spending won't be cut. Defense supporters are mad the military is not being funded all year. House Democrats won't vote for the plan because it doesn't include their priorities. Senate Democrats may balk at the plan, but at least eight are expected to support it to keep the government open.
None of that means there will be a shutdown. But don't be surprised if things fall apart.
Opioids: American life expectancy has dropped two years in a row, driven by the opioid crisis; 66% of the 63,000 drug overdose deaths in 2016 involved opioids — more than the number of people who die from breast cancer annually.
Russia investigation: Sen. Mark Warner (D-Va.) urged senators to protect Robert Mueller, saying in a speech on the Senate floor that he fears President Donald Trump is preparing to fire the special counsel.
Sexual misconduct: A total of 59% of American women believe Trump should resign over sexual misconduct allegations.
Race relations: Republicans and Democrats alike believe race relations in America have worsened under Trump.
Virginia: A day after believing they split control of the Virginia House of Delegates, an election was ruled a tie between a Democrat and Republican. That means the election — and control of Virginia's lower chamber — will be decided by drawing names out of a hat. Yes, really.
Secret dossier work: Several House Republicans have been quietly meeting, Politico reported, to build a case that FBI and Department of Justice officials improperly used a dossier with unverified claims about Trump and Russia in 2016.
DACA deal? It won't happen this week — but the Senate will pursue a bipartisan vote in January to permanently protect Deferred Action for Childhood Arrivals program recipients, undocumented immigrants who were thrown into limbo when Trump announced in September he would end the program by March.
House Democrats and progressives worry key Democrats in the Senate will not act to protect DACA recipients this year.
Clinton in 2018? Some Democrats want to see her on the campaign trail. Others, not so much.
Today's MicBite:
Trump's inauguration day say dozens of arrests — including of people who didn't even participate in protests. Tap or click below to watch the video about how police stormed one man's home in D.C.
Correction: Dec. 21, 2017