A 10-year-old drag kid's advice for LGBTQ youth during the holidays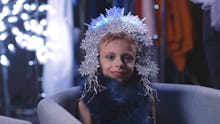 At 10 years old, Desmond Is Amazing is already an icon in his own right. He's captured the adoration of fans, including reigning RuPaul's Drag Race queen Sasha Velour, The Unbreakable Kimmy Schmidt's Tituss Burgess and even RuPaul himself, who had Desmond cut the ribbon at this year's inaugural RuPaul's DragCon in New York City.
Fierce in a way many queens twice his age have yet to harness, we knew we wanted to have the pint-sized "dragutante" back at our offices after first hosting Desmond earlier this year when he schooled us with advice on being yourself.
This go-round, with the holidays fast approaching, we thought it would be the perfect time to get some more advice, this time with a focus on LGTBQ youth, many of whom are getting ready to head home for the holidays to households that can be anywhere from uninviting to downright hostile.
"Desmond and I were talking about outfits last night and thinking maybe an ice queen/snow queen look and maybe a red look with holly," Desmond's mother Wendylou told us over email when were preparing for the shoot. "He was looking at Vogue holiday editorials and really wants to go that route... very much glamour, opposed to 'cute' holiday."
Check out Desmond's advice below — including what to do if Donald Trump is mentioned at the holiday dinner table: