Let There Be Neon: A look inside the NYC shop that's been making the best neon signs since 1972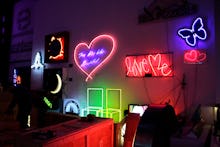 Neon as a design element in New York nightlife is nothing new. It was a focal element of Studio 54's opening as a nightclub in 1977, when vibrant neon hues hung from the ceiling and lit up the A-list clientele on the dance floor below. But back then, night owls weren't clamoring to snap photos as proof of attendance.
One old-school New York City neon atelier has been around for all the neon fads: Let There Be Neon.
"We love to have people come in and watch their faces light up because they're like 'Wow, what the hell is this?' and then they realize it," owner Jeff Friedman said in an interview. The company, founded in 1972 by artist Rudi Stern, is a uniquely New York institution. It's a modern business, museum of illuminated nostalgia and temple to neon, all in one space.
Friedman joined Let There Be Neon in 1977 and became its owner in 1990. The operation has since grown to 17 people who take custom neon from start to finish, from sales to designers to glass benders to installers.
They all work in a neon wonderland in downtown Manhattan: cluttered with crates and signs, brimming with the buzz of drills and hammers, with a glowing silhouette on the ceiling. A neon line traces the border where plaster has long since left the wall. Signs for diners, beer brands and Broadway shows cover every flat surface. In the back, employees contort tubes into recognizable shapes, fill them with neon or argon gas and then connect the signs to electricity.
The shop's recent client roster reads as an itinerary of trendy New York restaurants: Le Coucou, Han Dynasty, Wolfgang Puck, the Roxy Hotel.
Gary Rosenbaum, the shop's art director, attributed the rebirth of neon to a mood of American nostalgia that was prevalent across several different media in the 2000s. "Neon originally went away because it was replaced by newer technologies, like backlit signs and LEDs," Rosenbaum said in an interview. "They're easier to use and people like the flexibility."
But like record players, Polaroid cameras and small-batch beers, neon came back — reborn for a digital era.
It takes only a quick scroll through Instagram to realize how prevalent neon has become in interiors. The signs are eye-catching, easy to photograph and stick out in a newsfeed. Popular requests include quotes, words and reproductions of handwriting, in the style of artist Tracey Emin (whose works the shop also produces), Kate Oliver, Let There Be Neon's sales coordinator, said.
"Something I try to retain is Rudi's vision and spirit," Friedman said. "No matter what we're doing, if we're doing some boring sign for a restaurant, we like to skew it a little bit and keep it artistic."
Rudi Stern's love for neon flourished about 50 years after the medium made its way to the United States. Although it was first harnessed in France in 1902, neon wasn't popularized in the United States until bars used it to lure in customers after the repeal of Prohibition in 1933.
By the '70s, thanks to technological lighting innovations, only bars and mom-and-pop shops continued to use neon in their windows. Stern recognized the art of the medium and was among the first committed to preserving and restoring great works of neon.
"I have plans for neon pavements, neon highways, neon tunnels; neon on bridges, under water, outlining trees in parks," Stern told Omni magazine in 1981. He even named his daughter Lumiere, the French word for light.
"Rudi's original concept was to buy up all the old neon signs and resell them because he just loved neon," Friedman said. "But he immediately realized that he could offer fabrication, offer people original designs: their own designs, their own names in neon, for the first time. It had never been done."
"The use of neon is old school," Rosenbaum said. "I think it's the idea of neon nostalgia. It's been around as long as any of us can remember. I think there's that element that comes and goes — and it's coming up again."