Judge dismisses lawsuit over Trump's conflicts of interest — but that doesn't mean the issue is over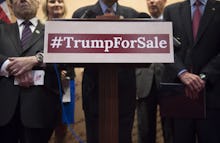 A federal judge on Thursday dismissed a lawsuit against President Donald Trump, which alleged that Trump was in violation of the Emoluments Clause of the Constitution — which bars a president from accepting gifts or money from a foreign government.
The decision, however, didn't rule on the merits of whether Trump was in violation of the Emoluments Clause.
Rather, Judge George B. Daniels said that the plaintiffs who filed the lawsuit — the liberal watchdog group Citizens for Responsibility and Ethics in Washington — didn't have standing to sue. In layman's terms, that means the judge said the people who filed the lawsuit couldn't prove that they were specifically harmed by Trump's alleged actions, and therefore don't have the legal basis to file suit.
In the lawsuit filed in January, three days after Trump took office, the plaintiffs alleged that Trump's "countless conflicts of interest" have "resulted and will further result in numerous violations of" the Emoluments Clause.
Daniels instead said that it's Congress' job to determine whether Trump is in violation of the Emoluments Clause.
"This court will not tell Congress how it should or should not assert its power in responding the defendant's alleged violations of the foreign Emoluments Clause," Daniels, a United States District Court judge in the Southern District of New York, wrote in his opinion. "In short, unless and until Congress speaks on this issue, plaintiffs' foreign Emoluments Clause claims are not ripe for adjudication."
The Republican-controlled Congress, however, is unlikely to take up the issue. In fact, many members of Congress, as well as the Republican National Committee, have spent campaign cash at Trump properties for fundraisers and other political events.
If Democrats win control of even one chamber of Congress — which is a distinct possibility — they may take up the issue. But that wouldn't be until at least 2019.
CREW is also not giving up the fight.
Deepak Gupta, a lawyer working on the case for CREW, said in a statement that watchdog group will appeal the decision.
"We respectfully disagree with the district court's decision," Gupta said in a statement. "There is no question that there will be an appeal, and our legal team is in the process of exploring our next steps."
Two other Emoluments Clause lawsuits against Trump are also currently pending.
One was filed by the Democratic attorneys general of Maryland and the District of Columbia. That lawsuit claims that Maryland and D.C. are being specificlly harmed by Trump's alleged violation of the Emoluments Clause, because his Trump International Hotel in downtown Washington is taking business away from taxpayer-subsidized convention centers.
The other lawsuit was filed by a group of nearly 200 Democratic members of Congress.